Use this off-page SEO checklist and examples to grow a new or existing website.
What is Off-Page SEO?
Off-Page SEO is the activity you or your team do outwith your website to boost your position in the search engines (SERPS).
On-Page and Off-Page SEO
On-page SEO vs off-page SEO
You can edit and control the activity with on-page SEO, such as editing page speed, titles, and descriptions.
With off-page SEO, you are relying on other activities of another website.
You can't control or order a journalist to write about you or link to you.
SEO Ranking Factors and Domain Authority
This chart shows the relationship between organic search traffic and referring domains.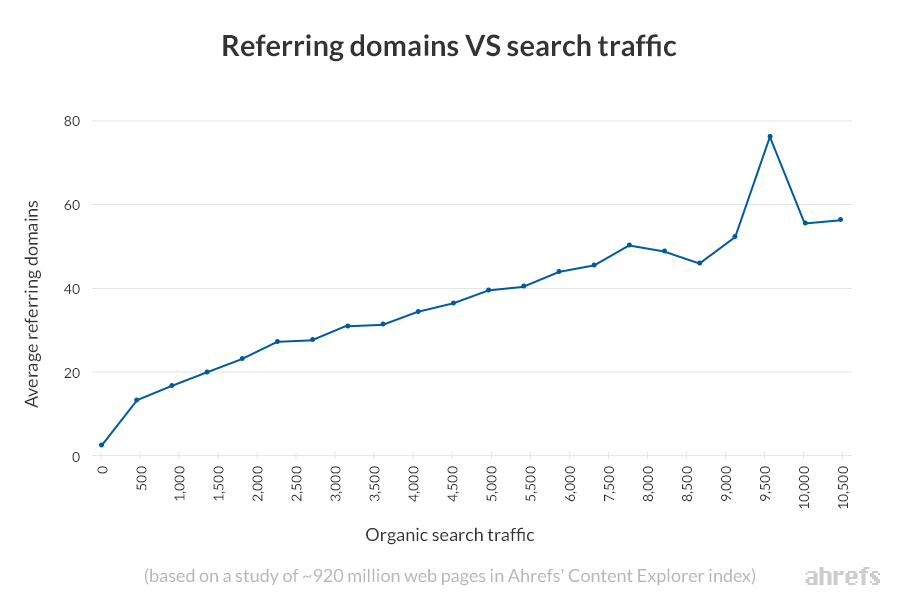 What it means; those who are proactive with off-page SEO and earn referring domains (links from other websites) will gain more traffic.
Why Off-Page SEO is vital to organic traffic growth
Imagine you need help with your website and search for a freelance SEO expert.
There are 7 million pages Google has indexed about that query.
A search engine needs a way to put the most relevant and trustworthy results on the first page.
Let's assume you and I both write a page about hiring an SEO expert.
Because of off-page SEO factors, Google is more likely to rank me on page 1 than you.
I was able to break into page 1 because :
My website has been around for over 10 years.
I have built "a brand" other people mention
I have links to my website from any industry-relevant websites
I write about SEO topics on my website
Various SEO tools use a metric such as domain rating or domain authority to rank the trustworthiness of websites between 1 and 100.
My website has a 47 or 48 DR score, and I'm in position 7 without any links to my page.
Review backlinks
Sign up for a free Ahrefs Webmaster Tools audit.
You will get a website scoreboard like this.
Domain Rating – a domain score out of 100
Referring Domains – number of external websites that link to you
Organic Traffic – estimated traffic from Google
Look at the number of referring domains. Do you have any? YES/NO
Click the referring domains link. Do you recognise industry websites in the links? YES/NO
Click the anchors link. In the anchor text column, is your name or company mentioned? YES/NO
Download Off Page SEO Checklist
Check competitor backlinks
Now scroll down to the competing domains tab to see a list of your nearest competitors.
Click the little arrow after their name to reveal their domain rating, referring domains and organic traffic.
Look at their domain rating. Is it higher than yours? YES/NO
Look at referring domains. Are they higher than yours? YES/NO
Look at organic traffic. Is it higher than yours? YES/NO
404 errors
It's not a great experience if links are broken.
Click Backlinks > Broken. Are there any broken links? YES/NO
Click Backlinks > Lost. Are there any lost links? YES/NO
That's our link checks done.
There is a relationship between your organic traffic and referring domains acquired through off-page SEO work.
Why people link to other websites
Knowing why people link to other websites will give you a better understanding of your next step.
You don't "get" or buy links; it's frowned upon by Google and could get your website deindexed.
You earn links when you can provide useful and linkable assets that other websites can use on their website.
During my research for the article, I need to include information about the number of small businesses in the UK and USA for page relevancy.
I searched and found 2 different websites with statistics.
I added these statistics on my pages and did the courteous thing and linked to their statistics.
That's how these other 2 websites earned a link.
Data Studies
Industry Studies such as salary guides
Statistics and quotes
Surveys
Graphs, charts, infographics
Let me run you through a menu of link building options.
Link building options
No one likes or wants to invest in link building especially considering the average link will set you back about $352.
I've never paid for a link myself; I have earned links through my efforts for my website or clients.
But it's hard to overlook the relationship between traffic and referring domains.
You need a budget.
Start putting funds away, reduce expenditure in other areas, and divert to off-page SEO.
Local citations and directories for local businesses
Local citations are mentions of your business online, and every local business needs these before doing any off-page SEO.
Use BrightLocal or WhiteSpark to add your website, where they will recommend local citations for your website.
Clients of mine will typically pay between $75 and $100 as a one-off cost.
| | | |
| --- | --- | --- |
| Cost | Time | Difficulty |
| Low | Low | Low |
Guest Posting
A guest post is an article you write on another website that includes a link back to your website.
It sounds simple, but every SEO marketer and their granny use this tactic.
If I were to write a guest post, it would be an industry-relevant website, a website that knew me and had traffic.
| | | |
| --- | --- | --- |
| Cost | Time | Difficulty |
| Low | Low | Low |
HARO and PR Hunter
Two websites help you connect with journalists and editors who write articles and need to quote sources.
Both have free and low-cost subscription services, and you can pick up a few links if you religiously read every email alert they send you.
| | | |
| --- | --- | --- |
| Cost | Time | Difficulty |
| Low | High | Low |
Broken Link Building
They say the old ones are the best; yes, I'm a huge broken link building fan and have gained more links from this tactic than any other.
It can be difficult for a beginner or business owner to get their head around this.
| | | |
| --- | --- | --- |
| Cost | Time | Difficulty |
| Low | High | Low |
Competitors link
It can be challenging to replicate competitors' links.
I tend to look for link trends amongst competitors.
What content format earns them links.
Brian is earning many links by producing data studies.
Adam is earning links by producing tip guides.
Studying the format people in an industry link to makes the link strategy you use that much easier.
| | | |
| --- | --- | --- |
| Cost | Time | Difficulty |
| Low | High | Medium |
Download Off Page SEO Checklist
Link Exchange
If I link to your website, will you link to a friend's website?
That's how a 3-way link exchange works.
Yes, this tactic goes against Google's guidelines, but you'll find many link exchange private groups on Facebook.
It takes time to build relationships, and it's not a scalable link strategy but won't cost you any more.
| | | |
| --- | --- | --- |
| Cost | Time | Difficulty |
| Low | High | Low |
Sponsorships
Sponsorship of a local sports team is popular amongst many local businesses.
| | | |
| --- | --- | --- |
| Cost | Time | Difficulty |
| Low | High | Low |
Podcasts and Interviews
Links from podcasts were definitely in vogue in 2020 and will be a regular diet of many website owners.
This is a time-consuming and potentially expensive tactic, but the benefits outweigh a link from a high authority industry website.
I'm not interesting enough to be featured in the SEO industry, but I've done a few podcast-type interviews with web design platforms.
| | | |
| --- | --- | --- |
| Cost | Time | Difficulty |
| High | High | Low |
Roundup Posts
You grab the latest news of the week or month in your industry from other websites and create a page summarising the information; that's how the other sites get their links.
You need to build up a list of people in your industry who produce regular roundup posts and introduce them to topics or subjects you've written about that they could link to.
| | | |
| --- | --- | --- |
| Cost | Time | Difficulty |
| Low | Medium | Low |
List Posts
You've seen plenty of list posts when you search Google.
When looking for the best shoes, the best gaming chair or the best headphones, Google will display list posts that websites have created.
Moz's research found that list posts earn the most links and shares.
| | | |
| --- | --- | --- |
| Cost | Time | Difficulty |
| Low | High | Low |
Reciprocal Linking
You link to me; I link to you.
This happens if you're doing any outreach.
Don't rely on this approach.
| | | |
| --- | --- | --- |
| Cost | Time | Difficulty |
| Low | Low | Low |
Visual Content
Assets such as images, photographs and infographics are considered visual content.
Other websites use these assets on their website but don't link to the original source.
Reach out and ask them to reach out to our resources.
Or describe your images and add ALT Text when uploading to your website.
People search images when planning content and could use your image as part of their article.
| | | |
| --- | --- | --- |
| Cost | Time | Difficulty |
| High | High | Low |
Download Off Page SEO Checklist
Statistics and Data-Driven Content
An old recruitment client created an industry salary guide; 14 other websites link to it.
Statistics and data-driven content are good at earning links because quotes and data within these pages are used by other authors writing about a related subject.
This can be costly content to produce; typically, it should be original.
| | | |
| --- | --- | --- |
| Cost | Time | Difficulty |
| High | High | High |
How to guides
In this study of link intent, I wanted to discover how you could earn more than 30 links to an article.
How to guides appeared to have the most success.
This makes much common sense, considering a how-to guide addresses the question or query users search for.
Use "keyword" AND "how" in Ahrefs content explorer tool to discover the how-to pages that earn the most links.
Then you need to create better "how-to" guides if you're going to reach out and earn links to your page.
| | | |
| --- | --- | --- |
| Cost | Time | Difficulty |
| High | High | High |
Resource Link Building
This is where you find and reach websites that have resource pages on their website.
Like a university website having a jobs resource page for students finishing their degree.
Many sites write posts like "23 Resources to Help X", linking to many different products, services and solutions.
The aim is to reach out to the managers of these resources to include your page (as a resource).
| | | |
| --- | --- | --- |
| Cost | Time | Difficulty |
| Low | High | Low |
Scholarship link building
Many companies offer small scholarships to students or potential customers.
Create a page
A scholarship fund
An application process
And a reward
Beatport, the music website, just did this campaign offering equipment and subscriptions to those who produced a "mixtape".
Expensive for a small business owner but less costly than the £3 million a year my old employer paid two sponsors and 2 football teams.
| | | |
| --- | --- | --- |
| Cost | Time | Difficulty |
| High | High | High |
Content Syndication
You publish a blog post and then put that blog post content onto LinkedIn article and Medium.com.
That's content syndication.
Your blog post is the original post and will have a do-follow link.
But since LinkedIn and Medium aren't the article's original authors, they will be marked no follow; thus, there is little link value.
So you could earn links to your post from all 3 sources, but only the link from your post would be of value.
So why do this?
More people on these syndications could read your article than via your article.
| | | |
| --- | --- | --- |
| Cost | Time | Difficulty |
| High | Low | Low |
Expert Roundups
What's your best tip?
Ask a bunch of experts in your industry for their best tip about a subject.
Collect the answers
Collect their name, photo and details
Produce an expert roundup article.
I've used this approach 3 times; I earned a few links but nothing special.
Download Off Page SEO Checklist
| | | |
| --- | --- | --- |
| Cost | Time | Difficulty |
| Low | High | Low |
Link Reclamation
Simple; find the websites that used to link to you but no longer do.
Go to Ahrefs backlink report
Select Lost
Select Dropped
See which websites you want to reclaim a link from, as not all dropped links you want back.
| | | |
| --- | --- | --- |
| Cost | Time | Difficulty |
| Low | High | High |
Expired Domains
Find and buy a website domain name with a good link profile that has expired.
Then redirect the relevant pages of the expired website to the relevant pages on your website.
Alternatively, find other websites that link to pages or resources on expired domains and offer your page as a replacement, similar to broken link building.
| | | |
| --- | --- | --- |
| Cost | Time | Difficulty |
| Low | High | Low |
Unlinked Mentions
An unlinked mention is where your name appears on another website, but there's no link back to you.
| | | |
| --- | --- | --- |
| Cost | Time | Difficulty |
| Low | High | Low |
Social Media
Yes, you can post content to social media channels and potentially, people who share the content may prompt others to link to it.
Most studies show no correlation between sharing and link earning.
I have a secret weapon in my link building armoury and for clients, where shares can result in links.
| | | |
| --- | --- | --- |
| Cost | Time | Difficulty |
| Low | High | Low |
Digital PR Agency
Hiring a link builder in London will cost you around £4,000 a month with a minimum guarantee of 10 links.
That's the model most link builders pursue.
But if you want to go up a level, some incredible digital PR agencies have relationships with industry journalists or generate and scale link ideas and campaigns.
| | | |
| --- | --- | --- |
| Cost | Time | Difficulty |
| High | High | High |
Download Off Page SEO Checklist