Learn how to hire an SEO expert or consultant for your business with some recommendations from Google themselves.
But first …
What is SEO ?
SEO stands for search engine optimisation and it's the craft of earning organic search traffic to your website from Google's organic search results.
There are many more moving parts to SEO than just traffic but I'll cover in this guide.
What is an SEO expert?
An SEO expert understands both your business goals, website and customers needs and wants as well as the best ways to get the best outcomes from the search engines.
An SEO will provide a clear direction of where to go and how to get there.
Where does SEO fit into marketing?
SEO is but one online marketing strategy to reach your target audience.
Search Engine Marketing (SEM) includes:
SEO
Pay per click advertising
Email marketing
Affiliate marketing
Editorial or native advertising
Content marketing
Video marketing
PR
Search analytics
Conversion optimisation and
Social media marketing
In other words, SEO is one piece of the marketing cake.
This chart shows where marketing money is spent by channel.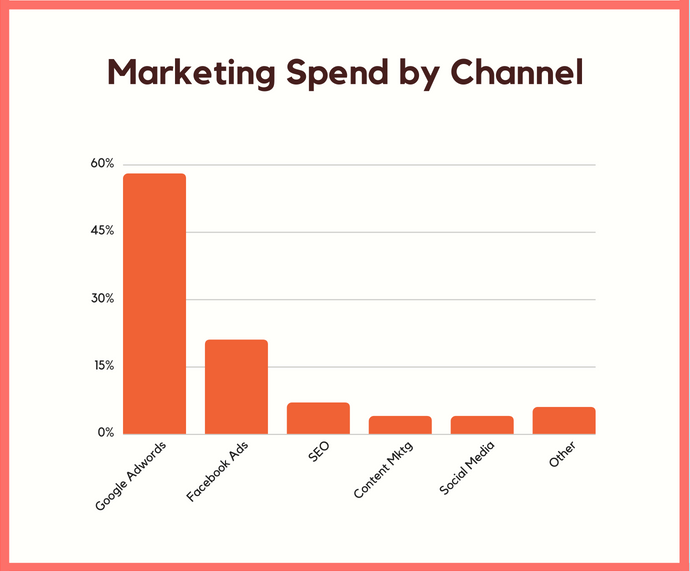 How can SEO help my business ?
Companies who advertise using PPC will spend advertising money in order to generate sales or enquiries.
But when they stop advertising the traffic stops.
On the other hand, organic SEO traffic produces a monthly stream of traffic by investing in research, content creation and link building.
For every person that clicks an advert from a paid search advert, then 10 people click an organic search result.
Only a small percentage of prospects go to Google and search for products and services.
The 3rd way that SEO can help your business is by targeting prospects at different stages in the buying funnel.
You can create content that targets prospects at different stages of the buying process.
Prospects searching for a solution to a problem
People looking for information about a service, product or company
People comparing, reviewing or looking for alternatives
You can attract these people through Google search, pull them into your marketing funnel and nurture qualified leads into customers.
Types of SEO services
SEO as a service is often misunderstood.
There are many different parts to SEO.
Keyword research
SEO keyword research involves discovering the words, phrases and intention that potential customers are searching for on Google's search engine.
Keyword research involves identifying relevant keywords and search queries that you can rank high for and being honest when you can't rank for highly competitive keywords.
Content Writing
Once you've done your research and a competitor analysis then you can write and produce quality content and optimise web pages that specifically target those keywords and phrases you researched.
A freelance SEO consultant can write and optimise web pages for :Product pagesService pagesHow to articlesProduct comparison guidesSupplier or product review articles
On Page SEO
On Page SEO is more than simply writing page titles and descriptions.
On Page SEO also involves :
Matching search intent with user intent
Improving existing content on pages with better content
Internal linking
Image optimisation such as ALT text
Page formatting such as font sizes, spacing, bullet points and lists, paragraph breaks and space.
Leveraging your best linked pages to boost rankings of other pages.
Off Page SEO
As it sounds, off page is SEO work that is done outside your website such as :
Link building
Promoting your pages
Building citations or mentions of your business
Optimising and posting with your Google My Business account.
Technical and Search Audit
The aim of a technical audit is to technical improvements improve so that your website performs and ranks better in the search rankings.
You want to give Google your best pages and your best content so that your website gets the best results from the major search engines.
Outreach
Outreach involves creating a linkable asset on your website, identifying people who can potentially link to your content and persuading them to link to you.
Outreach is without doubt the most expensive part of SEO services but earning quality backlinks from industry websites will see a ranking improvement and boost to your online authority and organic traffic.
There are, of course, other outreach strategies such as broken link building where you offer to replace an outdated link on a website, data studies on the latest trends in an industry and more.
Local SEO
Local SEO refers to bettering your online presence to attract more website visitors from local search results.
A small local business wants greater local search presence and will typically have fixed business operations or locations that they trade from or serve customers.
The most important elements of local SEO are :
Customer Reviews
Managing Google My Business account
Citations or online mentions
On Page SEO
Links
Building location authority
Google has around 87% share of the search market which means most prospective customers use Google to search for a local small business and their services.
How to hire an SEO expert according to Google
Google themselves outlined 3 steps a business should take before an seo consultant.
Interview Questions your SEO should ask you
Just like any hire or business relationship you need to find out if your supplier will be a good fit with your business.
Ideally you should have a telephone conversation or face to face meeting with them.
Copy this list of questions and, during the interview or meeting, make a note and check the seo consultant asks these questions.
What is unique about your business and services?
What does your ideal customer look like?
How does your target market currently find your website?
How does your business make money ?
Where else do you market?
Do you use offline advertising ?
Who are your competitors?
I would like to add the following to this list.
The expert should also know a little about a business owners website traffic and provide some feedback on issues they've experienced with the website such as
Site speed
How the website look on a mobile device
Some good keywords you rank for
Your top pages
Ask for references and testimonials
You should also ask for some references or testimonials of other businesses they have worked with.
Don't just take for granted the quotes on their website.
Another thing you can do is review their website.
Do they take care of it ?
Plug their website address into Ubersuggest to review their website traffic and their best pages.
If they can't get traffic to their own website why would you trust them to get traffic to yours ?
Monthly retainer or ad-hoc project basis ?
You should not dive straight into SEO with a monthly retainer.
Pay the hourly rate for some research or content to be done or hire them to propose some technical fixes.
Alternatively give them a brief and budget to create or improve a page of content on your website.
Or hire them to identify search terms to grow online visible and organic traffic.
This way you'll get to experience what it's like to work with them before committing to a long term contract.
Cost of seo work
I never believe average figures so you shouldn't be looking at the average cost of a talented SEO consultant.
In a survey of 1200 business owners, those who paid a high price were more satisfied with their SEO provider.
Instead of looking at cost as the lowest common denominator you should be comparing SEO costs with the cost of equivalent advertising spend.
Freelance SEO or SEO Agency ?
Using a freelancer or SEO agency will depend on the size of your business and your needs.
Of course a marketing agency that offers SEO will charge more because they have higher fixed costs eg: employed people.
They may just be able to deliver better results as they have more resources but their higher cost base may be outwith the budget of smaller sized businesses.
An individual will tend to specialise in some particular areas of SEO such as keyword research, content, on page or local SEO but can bring in additional resources on an ad hoc basis for specific projects.
Avoid when hiring
Here are some red flags that you should definitely avoid when hiring anyone for seo work.
Upwork and Fivver
I hope by now you're understanding a little more about hiring professional SEO consultants.
We are mechanics who fix and improve websites and organic rankings and traffic.
For a start these websites take 20% of what you pay someone and unless you know exactly what you want you will waste your money.
India and the Far East
Unless you are based in India I would avoid working with anyone based in countries such as India or the Far East.
There's a language barrier and time difference to overcome.
Someone who doesn't know your business
There are some industries I would personally struggle working with.
I don't have a medical background and I would struggle with some other complex industries.
You want to work with someone who understands a bit more than the basics of your industry.
Someone who just sends you SEO reports
If you are just getting sent reports every month, well that's not SEO consulting.
An SEO that doesn't get traffic to their website
As mentioned earlier don't work with someone who can't get traffic to their personal or business website.
Promises of guaranteed rankings or traffic
No one can promise you number one or page one rankings.
So avoid those promises and offers.
SEO is a long-term investment.
Continued organic SEO success come from a large number of small improvements that occur over a long period of time.