One SEO agency proposes £300 a month, and another sends a proposal for £4000 a month; what's the difference?
Let's step back a moment and figure out what you want.
The goal is to deliver traffic from Google.
After hiring an SEO agency or expert, you want more traffic from the search engines.
But how much monthly search traffic do you need?
1,000 visits?
10,000 visits?
Get instant traffic from Google Ads.
You can instantly get that traffic by running a pay-per-click campaign with Google Ads.
One SEO agency proposes £300 a month, and another sends a proposal for £4000 a month; what's the difference? This company pays £14 for 1 click with Google Ads.
So, 1,000 visits cost them £14,000.
And 10,000 visits cost £140,000.
Google Adwords will pretty much guarantee that traffic so long as you have the funds.
But what if you're a law firm and the cost per click is £320 to £415?
If you're selling soap or clothes, the cost per click will be much lower.
What's SEO Traffic worth?
Search traffic has a monetary value.
Stop paying for Google Ads, and the traffic stops.
This company specialises in loft conversions and pods.
A builder charges between £30,000 per loft conversion project.
The owners want 2 new jobs per month.
That's £60,000 a month or £720,000 per year in revenue.
To get 2 jobs, they need to convert their traffic into website enquiries.
Let's say 1 in 10 enquiries become a customer.
Divide 2 enquiries by 10% conversion, i.e., 20 enquiries every month.
If they convert 2% of their website traffic into enquiries, that means they need 1,000 visits per month to reach their goal.
So,
They would pay Google Ads £14,000 a month to get 1000 visits and possibly deliver £60,000 a month in revenue.
That's £14,000 in ad costs for 1,000 visits every month.
I doubt many property developers could sustain that budget every month.
And that's where organic search traffic comes in.
For every paid click, there's 10 organic clicks
Look at this chart.
4.42% of clicks come from Ad clicks
45.25% of clicks come from organic clicks
50.33% are zero-click searches
Very rarely do people search, click and buy immediately
If you're considering an extension to your home, you will do a lot of homework beforehand.
Is an extension worth it?
Do I need planning permission?
Do I have the funds to pay for it?
What about design, architecture etc
It's doubtful you will decide today, out of the blue, to click an advert or call a property developer.
Having done a little research about lofts, I know that the top 10 pages on Google (UK) get, on average, 1307 organic visits a month for people searching "plans for loft conversion".
And 623 people clicked on top pages about "planning permission for loft conversion".
540 people are clicking on pages about "loft conversion ideas."
Now we both know an estimated 2470 clicks exist around these 3 topics.
As you can see from the click forecast above, an estimated 51,749 organic visits are possible.
Publish the best content that answers the search query
Hundreds of pages already answer the queries.
Plans for loft conversion
Planning permission for loft conversion.
It would help if you produced an answer in your page content that's better and more useful than the top-ranked pages to outrank them.
The first 2 pages have written over 3,000 words because answering the query "plans for loft conversion" isn't a simple answer.
How long to get ranked on page 1?
According to Ahrefs, only 5.7% of pages will rank on page 1 in 60 to 120 days.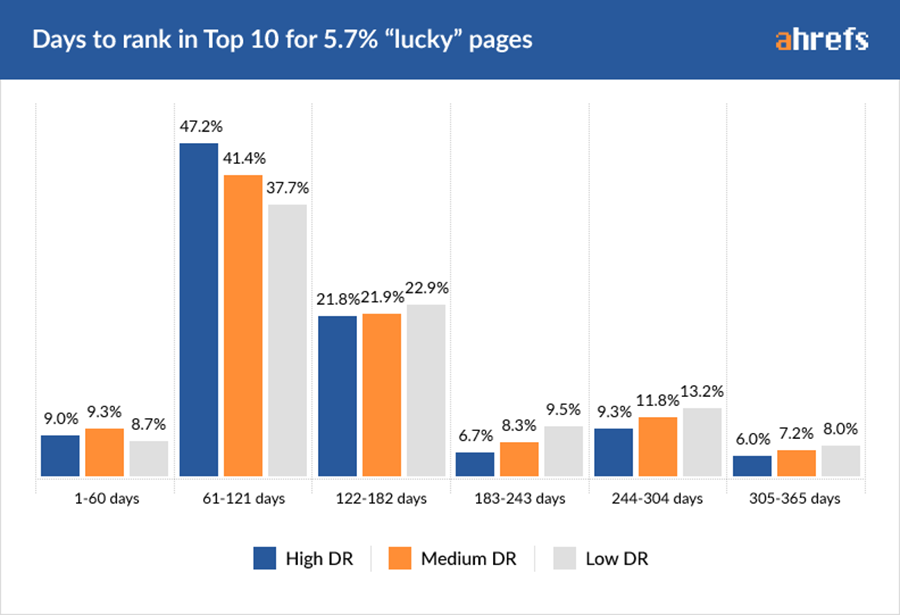 If you do nothing with your pages, it will take a year before you start ranking on page 1.
Here's how long it took this website to start seeing traffic because they sat back and did nothing.
You don't have 12 to 24 months to wait.
Promote your pages to improve rankings
To speed up your rankings, you must promote your pages and earn links.
Google tends to rank pages, not websites.
Typically, well-known websites with the most domain authority appear in the top results.
But if you can earn links to pages you're trying to rank higher and faster, THEN you stand a good chance of getting onto page 1.
Links to your page from industry-relevant, high-authority links are the best links to earn.
A link to a page about loft conversions from an estate agent, architect blog or home improvement website would be ideal.
And the only way you'll earn those links will be to identify people likely to link a valuable asset on your page.
A useful asset they will link to could be an image, calculator, statistic or checklist about lofts.
Conversion
When people visit and read your page, you need a process to turn site visitors into subscribers.
Make them an offer in exchange for their name and email.
So, if they were searching for "plans for loft conversion", you're going to make an offer on your page, such as 
After they fill in the form, you'll deliver your plans or guide and add them to a database to follow up with them.
You already know they are not ready to buy immediately, but you can educate and guide them through your sales process.
Introduce them to work you've done.
Share your social channels with them.
Tell them about your architects, builders, interior designers
Explain the planning process
Recommend ways to finance a loft conversion
Give examples of customers who've added great value to their homes
Provide testimonials, accreditations and so on.
Invite them to an open day or tour of work you've done.
Track and Measure
You'll want to keep updated on your ranking on Google, how links are being earned, how your pages are converting and what your agency is doing to improve your leads.
Optimise and Improve
Let's say there's new planning and building legislation, and you've not updated your page.
Your rankings drop, traffic drops, and fewer leads come into your business.
An SEO with their finger on the pulse can identify these changes and recommend getting your rankings and traffic back on course.
Similarly, if you have pages stuck on page 2 getting no traffic, the SEO can diagnose issues and implement solutions to get onto page 1.
Gaps and Opportunities
After a few years of successfully designing and building loft conversions for clients, you notice some clients come back and ask you to convert their basement or garage.
You don't offer these services on your current website.
Or there are planning restrictions that prevent you from converting lofts.
SEO experts can identify gaps and opportunities like these.
Or your competitors are getting traffic to topics and pages you don't have.
£300 or £4000 a month for SEO Services?
Here's a comparison of some average SEO costs and a £4000 a month retainer.
| | | |
| --- | --- | --- |
| Service | £300 a month | £4,000 a month |
| Click Research & Forecast | No | Included |
| The best content to answer search queries | No | Yes |
| Promotion and link earning | No | Yes |
| Website conversion | No | Yes |
| SEO Improvement | Maybe | Yes |
| Tracking, reporting and measurement | Yes | Yes |
| Gap and opportunity analysis | ? | Yes |
£4,000 per month is equivalent to the monthly salary you'd pay a marketing manager, someone with less than 5 years of commercial experience.
And not someone who specialises in growing unpaid, organic traffic.
Google Ads does not guarantee leads or sales.
Just because you can generate traffic with Google Ads, there is no guarantee you can convert that traffic into leads or sales.
If you use Google Ads, your website will still need to invest in content development for your web pages.
So you may as well create content based on what people are searching and clicking on.
Urgency
If you need leads urgently, invest in Google Ads, but you can still do PPC and SEO.
If the website or business is new with little traffic, spend money on PPC and SEO.
Over time, you can reduce your PPC spending as organic traffic grows.
A £4000 monthly retainer for SEO is outcome focus.
Search for and look at any £300 a month SEO service.
They'll offer you monthly reports, meetings and actions that will make very little difference to your traffic and zero difference to your lead conversions.
Using the example above, the aim of a £4000 a month SEO expert is
to deliver you £14,000 a month worth of traffic
1000 visits a month 
and the enquiries, you need to generate £60,000 of revenue per month.
Other SEO Pricing Models
No one jumps straight into monthly retainers with SEO agencies; that's like getting married before going on a few dates.
Start with project-based pricing to tackle one problem.
That's what I do with my click forecasting strategy.
Or ask the agency to work on a piece of content or content creation for a group of pages.
Or do a test link-building campaign.
Over a series of dates, you'll see how you both get along and work together.
If you're a good fit with each other, then work continuously.