64 SEO tips for quick wins, keyword research, content, on-page SEO, technical SEO, link building, local SEO and e-commerce SEO.
Best SEO Tips for quick wins
These SEO tips will help you rank higher and earn traffic; if you don't have time hire an SEO expert.
Set a goal
So you've just launched a brand new or redesigned website, and you're wondering why you are not on the top of Google.
Before you shout at your web designer or SEO manager, it can take 6 months before you start seeing traffic from Google.
So the first thing is to make sure you can track website goals.
To check your organic traffic and goals, login to Google Analytics
Select Acquisition
Search Console
Landing Pages
From the conversions column, select your goal
So I've only got 24 conversions (leads) from my organic traffic.
I can see which pages convert the best and worse.
What SEO do you want to improve?
My goal is to improve traffic and clicks to my service pages, thus generating more business enquiries.
I have filtered the landing pages report to display the statistics of these pages.
In Google Analytics, use the Matching RegExp filter and type in the URL names to filter your landing pages.
Eg: /keyword-research-services/|/seo-training/|/seo-audit/|/services/
You could set up a filter to show your products if you sell products.
My keyword research services page has been found on Google 1450 times (the impressions column)
I only get 2 clicks (clicks column)
The average position is very high for each page (e.g., average position 34 means I'm halfway down page 3 of Google)
So, to get more enquiries, I need to increase my average positions in Google, hopefully increasing clicks to my pages.
So the next tip is to optimise my existing pages.
Download 64 SEO Tips to increase website traffic
Improve SEO of existing pages
So now you need to determine which keywords and positions a page ranks for.
Improving the rankings of existing pages is the fastest way to increase traffic to a page.
So go and look at the keywords one of your important pages ranks for.
Go to Landing Pages
Filter by important pages
Select a page
Look at top search queries
Copy and paste the top query into Ubersuggest
Take the most relevant search query and copy and paste it into Ubersuggest.
Check there is search volume for this query.
Click the arrow next to the keyword to see the top keywords report.
These top pages should display visits to their page.
There should be a few of the top pages with zero or very few links
Where the top pages earn traffic, and some pages have no links to their page, you can break into the top 10 results.
Now you need to improve your page content to match the user intent.
And boost internal and external links to this page.
Add internal links to orphan pages (using Search Console)
Provided you have access to Google Search Console; you can view your top and worst internally linked pages.
Go to Search Console
Links
Internal Links
More
The default view is internal links in descending order.
Select internal links again to find pages with the lowest number of internal links.
The pages with 0 internal links are called orphan links.
With a low number of internal links, I am signalling to Google that this page isn't very important.
Find the page you are trying to improve and check the number of internal links.
Here's the search site operator to help you identify pages that contain your main search queries.
site:platonik.co.uk -site:platonik.co.uk/seo-tips/ "seo tips"
To use this yourself, change the domain after site: to your domain name.
Then omit the page you seek to link to site:platonik.co.uk/seo-tips/
Now put the main query between quotes for the anchor text links you're seeking to add "SEO tips".
Download 64 SEO Tips to increase website traffic
Keyword Research Tips
Keyword research gives insight into what people type into Google and how much traffic the top pages earn.
Research what people are searching for
It seems obvious to check what people are searching for, but data proves otherwise.
95% of web pages earn no traffic.
I have a friend who is a coach and wrote an article about buying a toothbrush and golf.
It's a great article.
But no one is looking on Google for this.
He is writing for himself, not for users or Google.
Therefore this article will never get any traffic from Google.
So I recommend experimenting with a few keyword research tools.
Ubersuggest is a free tool.
Enter a keyword.
Look at related keywords.
Click to see the top 10 results.
Check the pages to get visits.
Check to see if the top pages don't have many links.
If this is something you could write about, then jot down that topic on a spreadsheet or notepad.
Find Low competition keywords.
For new or less authoritative websites, you want to target keywords and topics with fewer competitive keywords.
What does low competition mean?
It means that there are pages in the top 10 results that
earn traffic
the existing content is either weak, not satisfying the user or out of date and
there are a few top-ranking pages that have zero or a few links to their page.
To find low-competition keywords
Go to Ubersuggest.
Enter a seed keyword, e.g., one or two words.
Select your country.
Select keyword ideas.
Select the filter bar.
In the SEO Difficulty box, enter 0 and 10 and then apply.
This will reveal low competition keywords.
You can add additional filters such as "buy" for low competition keywords with commercial intent.
Check the traffic and links to the top pages.
Don't be too concerned that the estimated visits to the top pages are low.
Ubersuggest estimates the traffic for this single keyword.
You need to check the total traffic to one of those top pages.
Enter their URL into Ubersuggest and check the top page traffic.
Download 64 SEO Tips to increase website traffic
Reverse Engine Competitor Top Pages
I like reverse engineering my competitors' top pages to identify keyword research and content writing opportunities.
Ahrefs has a brilliant competitor analysis tool.
Enter your URL, and there's a tab called competing domains.
Check the top pages of these competitors.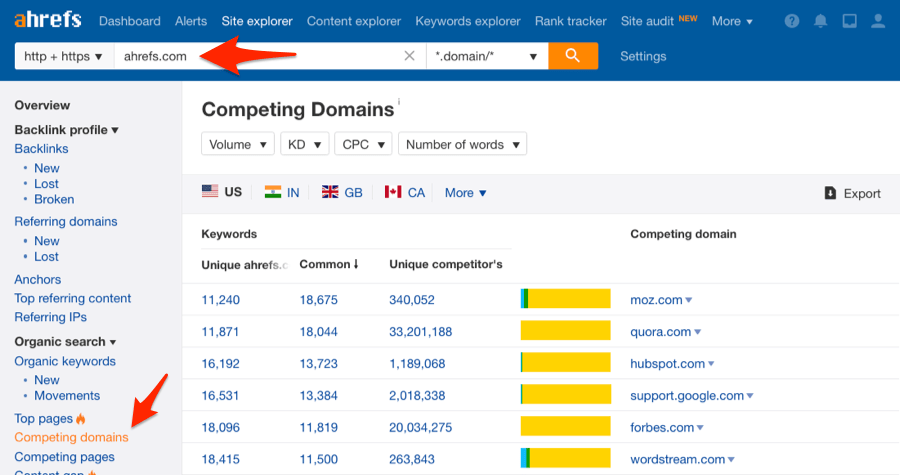 If you don't write about these topics, that's an excellent opportunity to create new rankable content.
If you don't have Ahrefs, try this.
Write down a list of big websites in your industry.
This could be a newspaper, magazine, governing body, or accreditation website.
Enter the URL into Similarweb.com
Scroll to the bottom and find related websites.
Jot down those websites.
Enter each address into Ubersuggest and jot down the subject of their top pages.
Find the topics that are a good fit for your website that you don't currently write about.
Find questions searches and add answers to your page
Find keywords that rank between positions 10 and 30.
Take that keyword and paste it into Thruuu
Select your country and search engine
Scroll down to SERPS features and look at the questions.
Check your pages do not answer this question.
Write a few paragraphs answering the question.
Go into your CMS and edit the page.
Wrap the question in an h2 header and paste the answer you wrote below.
Save your page and repeat the process for another keyword and page update.
Boost traffic with one "how to" article per month
A straightforward keyword research tactic is to publish a "how-to" article on your website.
Once a month is a good frequency.
You can find keyword ideas using Ahrefs and Ubersuggest by entering "how" in their respective keyword research tool's filter tool.
Create a product/service comparison guide
People search and compare products and services when unsure what to buy.
And that's your opportunity to create content and get in front of these people when they are unsure or undecided.
I've outlined how to research for comparison opportunities here.
Download 64 SEO Tips to increase website traffic
Content Tips
Check SERPS to understand user intent
When you look at the page titles and descriptions of the top-ranked pages for a search query, you can earn some clues about the content the user is looking for.
Look at the top 10 results for "SEO tips."
The user wants "SEO tips", but upon closer examination of the top pages, they have 3 elements in common.
For beginners
Actionable/easy
Increase traffic
So I compared the page titles of the top results with my old SEO tips article.
It appears I'm only offering valuable tips and not giving actionable and easy tips to increase traffic.
Hence why I'm ranking poorly and not earning traffic.
Write for user intent.
So now that I know the user wants SEO tips that are easy, actionable and can earn more traffic, I can write my content to match that intent.
I created a Google spreadsheet and wrote down all my subheadings in one column.
Then in the next column, I go through all the top pages and write down their subheadings.
If you install SEO Minion on the Chrome browser, you can speed up this process and copy and paste these headers.
Now I compare my subheaders with the subheaders of the top pages and write down a new outline for my page.
These headers will cover the main sections of the new page.
Then, under each heading section, write down the most critical areas to cover.
Now I know the user intent, have an outline of what to write and can start writing.
Finally, I'll run my finished article through a proofreader and semantic tool to ensure my writing is "on the topic".
Add case studies and testimonials to the page.
Case studies and testimonials are social proof and trust signals you can convey to users on your website.
To quote David Ogilvy, "people find it easier to believe the endorsement of a fellow consumer than the puffery of a copywriter".
Non-customers can identify with these satisfied customer testimonials, which can nudge them to inquire or take action.
Make content easy to read with fonts, headers and white space
These tips are taken from my website copy guide.
Use short words
Short sentences
Short paragraphs
Personal copy
Use body font size of 18 pixels or more
Use line and paragraph spacing
Reduce words per sentence, so they are easy to read
One sentence per paragraph
Use bullet points
Use numbered lists
Use accordions to avoid long boring page layouts
Great SEOs upgrade their pages regularly
A month ago, I discovered over 50% of my pages were over 12 months old.
I compared my organic traffic for the year versus last year.
Traffic has declined.
So I identified pages with the largest declines.
First, I checked my page matched the user intent.
If the page matches the intent, then I found related questions and added those to the pages.
I completely rewrote and upgraded those pages for pages that did not align with the user intent.
Now 70% of my pages are fresher, more relevant and better match the user intent.
Find and fill content gaps.
With a content gap, you can identify competitor or industry websites ranking for content, topics or keywords you don't rank for.
I wouldn't recommend looking at local competitors for content gap opportunities as they usually don't have enough traffic or pages to analyse.
Start looking at supplier websites and their product rankings.
Here's a quick guide to filling a content gap in your website.
Remove weak content
Look for pages with no links, clicks, and few impressions.
Those pages do not help you organically and can edit removed from your website.
Remove duplicate content
My rule of thumb is to give Google my best pages and content.
I tend to cover one topic per page.
But duplicate content can arise when multiple pages cover the same subject.
You can overcome this by using the focus keyphrase in Yoast that will alert you if you write about the same subject more than once.
However, duplicate content can arise when you don't even realise it.
For example, if you have an online store, you can create many different catalogues and collections containing the same products.
That's duplicate content but can be overcome by using a canonical URL to tell Google your preferred URL.
Or you may have to use 301 redirects, disallows or no indexing instruction.
Here's some recommendation from Google on duplicate content.
Download 64 SEO Tips to increase website traffic
On-Page SEO Tips
On-page SEO is as it sounds; making additions and amendments on your pages is a search engine and user-friendly.
The following tips are universal and apply to the majority of web pages.
Use short URLs containing the main keyword.
The URL is the letters or words you use to identify a web page uniquely.
eg: /seo-tips/
Just looking at the above URL, you probably know what that page is about.
If I named this page /?p=5638, you would have no idea what the page content was about.
Google see a URL such as /seo-tips/ in their crawls, and the URL is a little clue as to the page subject matter.
Research showed that a short URL was one of the strongest on-page factors in ranking a web page.
Note that a short URL is a strong on-page ranking factor; off-page factors are considerably more powerful in higher rankings than off-page factors.
Best tip for creating URLs
Keep the URL short like /seo/ or /seo-tips/, and make sure the word or phrase used for the URL is based on the main keyword identified during your keyword research.
Do not, under any circumstances, include a month or year in your URL.
Add the main keyword to the start of the title tag
If you use the Yoast SEO plugin, they recommend you include your main keyword at the start of your meta title.
If you Google any search query, most top pages contain the keyword at the start.
This helps people scan the results quickly before deciding which result to click.
Write persuasive page titles to earn more clicks.
The title tag is like the advertising headline for your page.
Here's an example of a page in purple that isn't maximising its page title.
Compare that page title with the one highlighted in green.
I've used a tool to analyse the effectiveness of both headlines.
The latter is a more powerful title.
Boy, I feel fired up and ready to get supercharged after reading this headline.
Best Tip to write better title tags
Pop your headline into https://headlines.sharethrough.com/, which will give you a headline, engagement and impression score.
The tool will teach you how to increase the length of your page title, include a brand name, and use more alert words and less passive words.
Download 64 SEO Tips to increase website traffic
Meta description should sell users on your page.
The page meta description is the 2 or 3 lines of text that appear underneath the page title.
It's space your page deserves in the search engines and an opportunity to explain to Google and the user about your page in more words.
To find all your page titles and descriptions, very quickly enter the following into Google.
 site:yourdomain.com - replace yourdomain.com with your website address.
You'll see pages with meta descriptions that are missing, too short, too long or aren't very persuasive.
Let me choose one of my page meta descriptions that are poorly written.
It's my contact us page, and I only use one line of the meta description.
What a wasted opportunity to persuade people to contact me.
We know that Google tends to bold relevant keywords in your page title and description for relevant search queries; hence you should use page title and description to the fullest.
The meta description displayed in Google will vary in length depending on the user's device.
The Yoast WordPress plugin has a nice feature to preview your meta description length in mobile and desktop views.
Best Tip to Write Better Meta Descriptions
Write the meta description as a more extended version of your page title using more persuasive or call to action phrases like this one.
Ignore meta keyword tag
I've been doing websites and SEO since 2005 and have never used meta keywords for pages.
Google has publicly stated that keyword meta tags are not used in web search rankings.
H1 Headers
The heading on a page helps to explain to the visitor what the page is about.
If you previewed my SEO Tips page in the search engines and clicked on the link, and then I showed you tips about another subject, you'd feel disappointed or misled.
So the page heading just reinforces that you're on the correct page.
But not everyone who comes to your website comes from Google.
Some people come from adverts, social channels, or other pages on your website, so the page header should be explanatory and persuasive.
Best Page Heading Tip
Ensure the page headings are formatted in the H1 style and ensure the header starts with your primary keyword.
I could use SEO Tips for this page, but 64 SEO tips for new websites to increase traffic better describe who the page is for and what this page is about.
Download 64 SEO Tips to increase website traffic
Sub headings
You can format a web page with H2, H3, H4, H5 and H6 headings.
For a start, it breaks up a long-form page of content.
But more importantly, I believe an H2 header is an on-page signal to Google of the secondary importance of that content on your page.
There are various table of content plugins; in fact, a table of content features is now included in the Gutenberg Addon plugin.
First sentence includes the main keyword.
A simple tip is to include your main keyword in the first sentence of your page.
Google will give greater ranking importance to the first sentence that immediately follows your page heading.
Whilst not a major ranking factor, every little best practice on-page SEO optimisation will help.
Add 3 internal links.
You can significantly increase the visibility of your website and pages by adding internal links to other pages on your website.
I try and link to around 3 other pages on my website when adding or updating posts.
Add an external link to help Google understand the page
Adding an external link to another website seems counterintuitive; you want people to stay, not leave your website.
But ongoing links positively affect your SEO because they can help Google better understand the context of your page.
Optimise images with TinyPng
Large unoptimised images slow down your website load speed.
So you should use a tool like TinyPng to optimise your images so the file size is smaller.
Various WordPress plugin tools will automatically optimise your images, thus saving you time.
Create a YouTube version of a page to rank page and video in SERPS
If you have the time, create a YouTube version of your page so that the video and the page rank in the search results.
I earn about 120 visits a month to my page, comparing Ahrefs and Ubersuggest.
Looking at the YouTube statistics of my video, I can see that 16.4% of these video views come from Google searches.
It's not much but every little counts.
Add a call to action.
Where possible, the call to action should match the page the user is engaged in.
You're reading a page about SEO tips, and I'm offering you a free download to improve your website traffic with an SEO tip guide.
Add the call to action in multiple locations on a long-form post or article.
Download 64 SEO Tips to increase website traffic
Add related posts
At the end of each article, add related posts to keep the user engaged on your site if they don't take the action you're looking for.
Thankfully my WordPress theme automatically displays category-related posts; failing that, use a related post plugin or develop your functionality with advanced custom fields.
Have a sidebar
A sidebar on your pages or posts can reduce bounce rates and navigate users to your commercial intent pages.

Look at my sidebar; I have related articles and 3 boxes pointing website visitors to my service pages.
Download 64 SEO Tips to increase website traffic
Technical SEO Tips
There are so many parts and elements to a website that we shall call these technical SEO tips.
If we compare a website with a building, it needs an architect to conceive the structure; it needs strong foundations, good brickwork, insulation, ventilation, etc.
Without these elements, the building won't last long.
That's technical SEO, and it's about how search engines can crawl and view your web pages.
Mobile First
It's estimated that 66% of searches are done on mobile devices.
Therefore it makes sense for Google to encourage web developers to have fast, mobile-friendly websites.
Site speed is something that can be improved after a website is launched.
But most speed issues occur due to web development or theme selection.
Make sure you test a theme's speed with GTMetrix before you purchase it.
Use robots.txt to hide precious content.
A robots.txt file is a small file that sits on your root server that tells the search engines who crawl your website which pages to look at or ignore.
You don't need login pages or secure files showing up in the search engines so that you can block these files in your robots.txt file.
I block all PDF documents I upload to my website as I don't want Google or prospective customers to see them.
301 Redirects
Say, for example, you create 2 pages about the same subject.
These pages could be ranking in Google and have links to them but stealing rankings and clicks from each other.
So you would merge the content of both pages into one page, delete the other page and then set up a 301 redirect from one to the other so you don't lose the juice the deleted page has acquired.
SSL and HTTPS
Back in 2014, Google confirmed that an SSL certificate on a website is a ranking factor.
One issue that frequently occurs on websites is mixed HTTPS and HTTP URLs.
After a site migration to HTTPS, some internal links on a website still link to the non-secure version of the page.
Or your website links to non-SSL external links.
That's an issue that you can resolve by running an SEO audit.
Submit XML Sitemap to Google
An XML sitemap is a list of web pages you want Google and Bing to show in their search engine results.
It's also how Google generate the information you see in Search Console reports.
Most content management systems will supply an XML sitemap or generate a WordPress XML sitemap with the Yoast plugin.
Once you have your sitemap add it to Search Console and Bing Webmaster Tools.
You can disallow pages such as secure or login pages that you don't want people to see.
Best XML Sitemap tip
My rule of thumb with an XML sitemap is only to give Google your best page.
Speed up your website to rank higher
You want to test more than the speed of your website; you want to test the speed of each web page.
I have a client guilty of uploading images straight from Photoshop without saving an optimised image for the web.
Large images are the biggest culprit for slow pages.
Best Page Speed Tips
Go to Google Analytics and type "Speed Suggestions" in the search bar at the top.
You'll be taken to a report showing:
Average Page Load Time
Page Speed Suggests
PageSpeed Score
Pick a page with the lowest score and the most suggestion.
A window will open, and Google will analyse the page.
Click on desktop and mobile to see your page score.
WOW, my page on mobile is 51 out of 100.
Verging on slow.
Look down at opportunities.
That's how you can quickly improve your page speed and enhance the user experience.
SEO Audit with Ubersuggest
Ubersuggest offers a free SEO audit tool.
This can help you identify some, but not all, issues with your website.
Enter your URL, and issues will be identified.
Work through these issues, or pay your web developer or agency to implement the fixes.
Download 64 SEO Tips to increase website traffic
SEO Audit with Ahrefs
The best website health check tool is the Ahrefs Site Audit tool.
Run an audit with the tool, and it will show you :
Comparative SEO health score since your last audit
HTML Issues
Duplicate pages
Low quality pages
Broken links
Once your report has been generated, they'll explain each issue and how to fix those images in reasonably plain English.
Link building tips
You don't get links; you EARN links.
So that's the first link-building tip.
Changing your mindset from getting to earning links is a good start.
An Ahrefs study showed the relationship between referring domains and organic traffic.

Why do people link to competitors?
People link to useful, helpful or extraordinary assets that match the story they want to tell.
People link to assets that just so happen to reside on a web page.
A study by Buzzsumo showed that list posts earn more links than any other content format, including quizzes, why posts, how-to posts, infographics and videos.
Create content for people in your industry to link to
Let's say you sell travel insurance.
That's a very competitive market to compete in.
Very few people will link to your travel insurance pages.
So, find out what topics are related to travel insurance.
Pop "travel" or "travel insurance into relatedwords.org.
Look, here's a topic – lost luggage.
So now you need to find out who has previously linked to lost luggage topics.
Enter "lost luggage" into Ahrefs Content Explorer.
Sort by descending referring domains.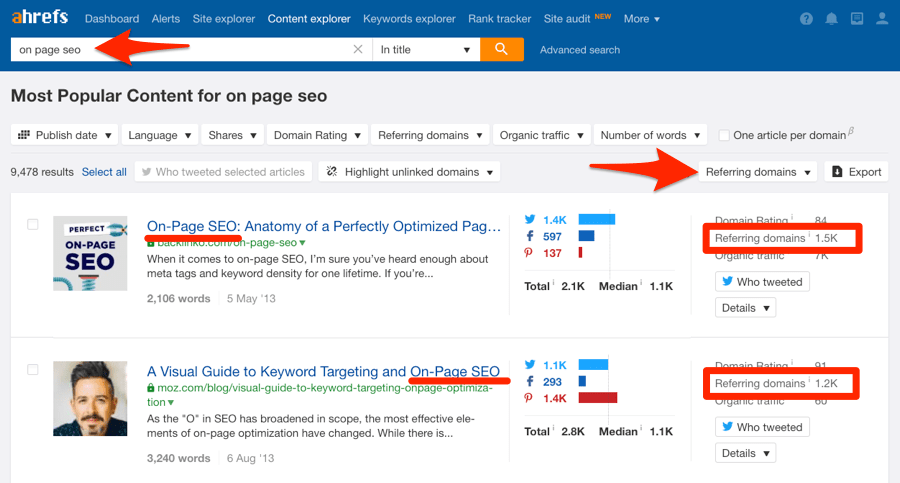 The people who link to these top linked articles might link to something else about lost luggage.
You want to write a similar topic but find a different angle to other similar pages.
Then on your new "lost luggage" page, you want to add internal links to the travel insurance page you want to rank higher.
Then you want to find the names and email addresses of all these people who link to the articles mentioned above and reach out to them to earn links to your new page.
Download 64 SEO Tips to increase website traffic
Jump to SEO Links
Jump to links can help you rank pages for long-tail keywords or questions by simply adding a new h2 section and answering the query or question.
I have written an extensive guide to these SEO links here.
Socially Share Content
Distributing your content on social networks can help reach and influence people in your industry; and potential customers.
I've used a social curation tool that shares my content with influencers.
Quuu has helped me earn a few links from social sharing.
Fix your broken links
Broken links create a poor user experience, and there are two types.
You might have external links to other websites that you quote or reference.
Or you may have removed or changed pages in your website that create broken links.
The latter occurs after a change from HTTP to the HTTPS version of your website, a website redesign, a website audit or a change of CMS.
Best broken link tip
Use a free tool called Integrity and run your website through it, and it will show you all the broken links to fix.
Broken Link Building to boost authority and rankings
I've created an online training course that teaches how to earn links to your website using broken link building.
One of the main reasons you are not ranking high for your pages and keywords is that you lack domain authority.
That authority can be built by offering to replace broken links on other websites with your replacement page.
Use Anchor Text Links
When you add a link from one page on your website to another page, ideally, you want to use relevant and useful text such as "keyword research" when linking to a page about keyword research services.
This is much more useful than highlighting "click here" as the text linking to your page.
Google will pick up those keywords you've highlighted in your links, which will help you slightly in the search results.
Disavow bad links
Ideally, you want a high-quality, high domain and industry-relevant websites linking to you.
But perhaps you hired someone in the past who built some spammy, low quality and irrelevant links to your website.
Well, you can disavow those bad links and tell Google to ignore those links.
Here's a comprehensive guide to disavowing links from Ahrefs.
Email subscribers your content
As part of your online marketing, you should email your existing subscribers any new posts you've published.
For example, I've upgraded 6 articles in the last month and should send an email highlighting useful resources for them.
Sponsored and guest post links
Google has recognised that people are paying other websites to earn links.
So they've introduced the rel= "sponsored" link attribute for publishers to indicate a paid link.
Such a link isn't going to be as valuable as a link earned naturally.
However, let's say I'm in an industry Facebook group, and I say to David, I'll write you an article.
He's probably not going to bother with a sponsored link attribute.
So moving forward, guest posts will still be great for earning valuable links, but only from people and website owners that you know.
Paying for do follow links just got that much harder, which is good news.
Download 64 SEO Tips to increase website traffic
Local SEO Tips
According to Search Engine Roundtable, over 46% of all searches in Google have "local intent".
In other words, people will visit a nearby business after doing a local search.
Therefore it's important you can be found in the local search results.
(NAP) Name, Address, Postcode on website
NAP is short for the name, address and postcode of your business.
You need to submit that information to local directories and citation sources because Google uses these mentions of your business to rank you in local search.
If you aren't getting ranked well locally, you will likely have a lack of or inconsistent citations.
Build citations
Use BrightLocal to find, add or repair your citations.
It will cost you $3 per citation and is worth the investment.
You will have trouble ranking locally if you don't have a business at a physical address.
Don't try and fool Google with a fake address or PO Box number; it won't help you.
But what you do are create local city guides or get ranked on industry websites.
Industry links
Most professionals or tradespeople are members of an accredited body.
These bodies have websites and typically list their members both alphabetically and geographically.
So if you are listed on their website, you get links to your website and the chance to be found when people are looking for on their website.
Set up Google My Business
Google My Business is a solution for businesses with a local presence or location to tell Google and users about their business.
It helps you earn rankings and website traffic when people search your business name, type of business, or businesses in a particular geographic area on Google Maps.
You can add your company name, address, phone number, photographs, reviews and links to your pages, products, services, events and offers (from your phone and computer).
Best Google My Business tip
Use Google's guide to setting up and using GMB here
Earn local authority with social media
Ask for customer reviews
A popular type of search query is company and product review searches.
You can email customers directly and ask for reviews. Use the WhiteSpark review link generator tool or a 3rd party solution such as Feefo to capture reviews post-purchase or transaction.

Do reviews help your SEO?
Yes, according to Leverage Marketing and the Local SEO Ranking Factors study.
Best customer reviews tip
Use the WhiteSpark review link generator in an email campaign to customers with a Gmail address.
Customers with Gmail addresses will find it easier to log in and add a review of your business.
Sponsor local team
I recommended that local businesses sponsor a local team to promote their business in my local advertising guide.
The price of local sponsorship will vary, but a link on their website, branding on their shirts and joint social promotions will add credibility to your business.
Download 64 SEO Tips to increase website traffic
Google Posts to promote content and offers
Google Posts are a feature within Google My Business that enable business owners to promote articles, services, products, offers and events.
Once you've set up your Google My Business account, log in to Google My Business or download their iPhone app.
Here's my video guide to Google Posts.
Best Google Post tip
Create a free account with Canva.com, create a 400 x 300 template, and insert an image and headline.
Download the image and upload it to a new Google My Business post.
Choose to link to a page on your website, write a paragraph about the post then publish it.
The post will appear next to your business listing on Google, and you can also share the post on other social channels such as Facebook, LinkedIn and Twitter easily.
Download 64 SEO Tips to increase website traffic
Ecommerce SEO Tips
Here are some e-commerce SEO tips to boost your rankings and traffic if you run an online store.
Above the fold
Try to have your product name, image, and price, and add them to the cart button above the browser fold.
This ensures your product details are visible to shoppers.
This may not be possible on mobile devices, but it is difficult for the user to find essential buying information.
Strictly not an SEO tip, but I recommend that your call-to-action button be green.
Rank your images with ALT Tags
According to Shopify, Google Images is now the world's second-largest search engine.
Bigger than YouTube.
While fashion searches could partly drive image search, many people are looking for the right image for various purposes.
The ALT tag is just a way to describe an image to Google.
Best ALT Tag Tip
Install the SEO Minion Chrome Extension, visit one of your web pages, click SEO Minion, then Analyse On-Page SEO.
In this example, my page has 51 and 45 images without ALT Text.
All I need to do is describe these images.
Then I can track my ALT Tag click performance using the Performance Report in Google Search Console.
Add 'Purchase intent' Keywords to your product pages
Purchase intent words are those such as "buy", "order", and "cost".
If you have the product on sale, don't be scared to add the discount amount, e.g., "15% off this month", to the page title, meta description and body copy.
Breadcrumbs = internal links
Breadcrumbs are the small link list objects you sometimes see at the top of web pages.
They show the user where they are on a website.
From an SEO perspective, they improve the visibility of sections and pages of a website.
Breadcrumbs will link a home page to a category page and product page and vice versa.
Canonical URLs for similar content
Canonical URLs are a technical feature that simply tells Google 'this URL is the same as that URL, and this is our preferred URL".
The need to use canonical URLs is most frequent on e-commerce websites.
When you add a product to the store, you have a URL for that product, e.g.,/products/product-1/
But you also have to add that product to a collection, e.g.,/collection/product-1/
But the product may appear in another collection eg: /collection/sub-collection/product-1/
So with canonical URLs, you tell Google what URL is your preferred URL, and you don't suddenly have 3 URLs all about the same product.
Using canonicals avoids creating duplicate content on your website.
Summary
Anyone with rudimentary website skills can apply these simple, actionable SEO tips.
You don't need to implement them; just choose those you believe will have the biggest SEO impact and drive more organic search traffic.