Here are 15 marketing tactics outlining how to promote your website once it's gone live.
This is a sort of mini marketing plan that will consist of both free and paid tactics.
Introduction
I put a new website live in January after doing all the keyword research, content creation, and citation link building.
The client expected to instantly see his website ranking high, getting traffic and enquiries.
Length of time to rank.
Ahrefs did a study on the length of time it takes to rank new pages.
Now don't be alarmed; I've had mixed results ranking content.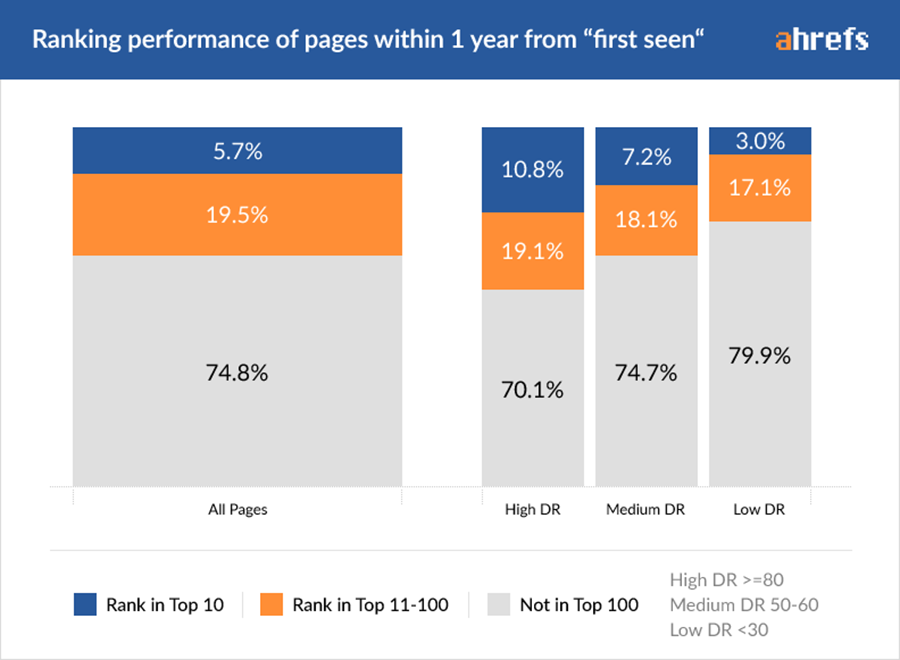 I've had pages rank number one in a month.
On the other foot it's taken my 6 months to rank on page one for what are relatively easy topics and keywords.
Here's the screenshot from Google Analytics of a website I put live in January 2019.
You can see the slow but gradual traffic growth from January to May 2019.
This was a brand new website with a domain rating of 1.
And the only links built to it citations from local directories and newspapers and the client's industry association website.
So what can you do to promote your business and services in the meantime ?
Check your website has been indexed in Google
Go to Google and type in site:domain.com – where domain is your website address.
This is what you should see.
If you don't see any mention of your web pages then, to hazard a guess, you or your web team haven't submitted a sitemap to Google Search Console.
A sitemap is a summary of all the pages you want Google to display on their search engine.
Without a sitemap it makes Google's job harder to crawl your website and pages for ranking.
First add your website to social channels such as :
Get your website mentioned online
I've compiled a guide to citations here.
Citations are basically mentions of your company name, address, postcode, web address and phone number.
They are Google's way of checking you are a legitimate website or business.
Industry and Association Links
If you're an accountant or a professional who is a member of a professional body ask them to link to your website.
Typically professional bodies list their members and their website.
Go ask them to include your business because industry and authoritative links will give your website's organic rankings a boost.
Ask your web designer or web company
Ask your web design to promote your website with a mention on their website.
They'll probably do this, but prompt them anyway.
Promote your main service
You need to come up with an offer for your main service.
For example, I have 2 accountancy clients.
The call to action on both their websites is "contact us".
Not very specific or persuasive.
Don't blame the client because I created these forms !
So one client offers tax services and one client focuses on self assessment.
So they should make a no risk, no commitment, persuasive offer.
Free 20 minute tax consultation, click here.
Free 20 minute self assessment review, click here.
Because I don't have permission to run these offers for them, I'll make an offer on my website.
Free 20 minute SEO consultation, click here.
Calendy Booking Form.
Sign up for a free account at Calendy.
Create an event for 20 minutes.
Add a phone number field to the form.
Now copy the code.
Go into your website and create a page.
Call it Calendar, Schedule or Appointments.
Embed the code on the page and save it.
Sticky bars and a call to action
Now a good place to make your offer visible is by adding it to the top of every single page on your website.
We can do that, again, free of charge, using a service such as Hellobar.
The basic service is free as long as you don't mind their logo on the bar.
Google My Business and Maps
Make sure you're signed up to Google My Business.
With Google My Business you can provide your company details like name, address, website, phone number so that people can find your business locally.
You'll need to verify your business details by postcode or telephone but once you have a GMB account it opens up lots of promotional opportunities.
Google Posts
Google let you post updates about your business with Google Posts.
You should post about once a week.
Post information about a product, service, event or an offer.
The post information appears next to your business listing; provided you are verified with Google My Business.
Use the GMB iPhone app to post; it's super easy and quick to post.
Sign up to Canva.com
Create a template 400 x 300 pixels in size
Add an image and some text to describe the post
Download the images
Open up the page URLs in your browser
Log into GMB
Click posts on the left menu
Choose add update, add event, add offer or add product (I chose the first option)
Upload your image
Write a post title
Click the add a button option and select learn more
Add your url
Preview
Publish
Here's a short demonstration video.
Start a Facebook Advertising campaign
Before you dive in and set up a Facebook ad campaign you need to be really sure who you are targeting.
Facebook enables you to target people by their interests and demographics.
For example, I'm running a campaign to target people over the age of 30 and under 60 who's marital status is separated.
This is to make them aware of a service that will buy their home fast.
People don't use Facebook expecting an advertisement so you're targeting, offer and interruption strategy better be good.
You need to set up an advertising account and add your card details in order to start advertising.
Select "Create" button
Select Traffic from the consideration section
Give the campaign a name and select continue
Now give the ad set a name
Choose website as the place traffic will go to
For the audience selection, choose the country or places you're targeting
Choose Age, Gender, Language
Now you want to choose your specific audience; for me I choose those with marketing manager as a job title
For Placements, ie: the advert will appear on numerous properties and places Facebook own, I chose the default automatic placements.
For the budget I chose £100 over 13 days and I'm choosing link clicks as the ad will be chosen to those most likely to click adverts.
Now give the ad a name
Make sure you chose to link your Facebook and Instagram pages
For simplicity, choose a single image.
Next, I jump down to the Links section
I want to send marketing managers to my keyword research comparison tool
Enter the url in the website URL box
Facebook will then extract the image from your page and display it in your advert.
Now complete the rest of the advert

Text
Headline
Call to action
Display Link
News Feed Link Description
Now click through the ad preview options to see what images are missing.
Just back up to the Media section to add images for your ad.
Facebook recommend a 1080 x 1080 pixel image to suit all ad placements
Create an image in Canva but selecting the Instagram template.
Now upload the image to Facebook.
Now preview all the ad placement.

Scroll to the foot of the page and click review to double check your campaign settings, targeting and budget are correct.

If you get a message about your image containing too much text, then change the image.
Click confirm for Facebook to manually review and start the ad campaign.
Set up a small Google Ad campaign
If you want instant traffic to your website then you will need to pay for clicks.
Google Ads are the quickest way to drive traffic to your website.
First you'll need a Google account, set up billing, set up conversion tracking, connect Adwords with Google Analytics.
You can watch this video which better explains that the written word.
To create a Google Ad campaign
What are you promoting ?
Use the offer messaging in the earlier step eg: Free 20 minute tax consultation, click here.
Decide the web page people will landing on before creating the ad campaign.
Do not under any circumstances send people to your home page.
Click Create New Campaign
Then Create New Campaign
Either choose leads or website traffic
Then choose Search and continue
Give the campaign a name
Untick display network
Choose your location; that can country, city or any location you define
Choose language if applicable
Leave Audiences because you don't have one; use this option for retargeting when you've got sizeable website traffic
Under budget £30 a day would amount to £900 a month
Under bidding I would focus on getting clicks in your first campaign
Let Google control the bid strategy to get your start
Next add ad extensions such as I've done and a call extension
Save and continue to the next step
Now create your ad group
Give it name
Now you need to enter keywords which will trigger your adverts
I recommend using modified broad match keywords
Enter them into box
You can also pick up keyword ideas by entering your seed keyword in the "enter your products and service" box
Select save and continue
Now create your advert by filling in each box
Final URL – this is the page people land on after clicking your advert
Headline 1
Headline 2
Headline 4
Display Path
Description 1
Description 1
Now preview the advert with the 1 of 2 previews arrows
Now save and add another advert (if you wish)
Now your advert is ready to be approved by Google
Click Continue to Campaign
It will take a couple of days for your advert to start showing up; in my experience anyway.
You also want to add negative keywords to the campaign.
To do that click keywords – negative keywords and enter keywords that aren't relevant.
You'll learn more about adding negative keywords as the campaign starts to grow; add them as you go along.
Schedule Posts on Facebook, Twitter, LinkedIn
Here's a short video outlining how to set up and schedule your posts to social channels you have.
Scroll down to the Free plan
Sign in or register
Connect your accounts
Open up 3 blog posts in your browser
In the what you'd like to share box, paste in your URL into all 3 social channels
Add some text to describe the article
Add some hashtags
Set a publish time and date
Then paste your next article into the share box.
Pretty easy eh ?
Social Promotion
I use a service called Quuu Promote to socially promote some of my blog posts each month.
Quuu helps you get your content in front of people in your industry.
It's especially useful in communicating to a wider audience than you currently have.
Word of caution; they don't let you promote your services.
Here's some results from socially promoting with Quuu.
Email
You must have a list of contacts either in your email inbox or stored somewhere.
Send them an email and introduce your website and business to them.
This is only the beginning
This guide will give you a good initial start in generating interest and traffic to your services.
After that, it's down to your budget, resources and time.