This is a complete SEO guide for beginners and acts as a quick refresher for everyone else.
What is SEO?
The craft of getting people to see and click on your web page result is called Search Engine Optimisation.
SEO is an essential marketing strategy and can drive more relevant traffic, leads, sales, and ultimately revenue and profit for your business.
Earning Traffic from Search Engine Results
With over 7 billion searches a day Google is the number one search engine.
Major search engines are looking for pages with content relevant to the search query.
Search engines determine relevancy by crawling (or reading) your web page content and evaluating whether it's relevant to what the searcher is looking for.
The number of other websites that link to your page and your site as a whole is still the most important ranking factor.
Many people think that SEO is not worth it.
The basics of SEO are very easy.
With 57.8% of all web traffic coming from Google, SEO is worth learning about it if you're in business.
Back To Top
Step 1: Keyword Research
Understanding who your customers are and what they're likely to search for is the first step in SEO.
Given that 91% of web pages don't earn traffic from Google this suggests that the majority of website owners don't know what their audience is searching for.
Relevance
How do you know what is a relevant search query that prospects make?
If you sell "mirrors and tables", you don't want to show up for searches that don't have anything to do with your business, like "dog food."
Therefore you should start the keyword process with a keyword list of your products or services.
Then filter these keywords with modifiers.
I prefer to use the buying funnel to filter a huge list of keyword ideas.
This process ensures you identify a list of keywords at the top, middle and bottom of the funnel.
The types of search you can identify with this process are :
Problem searches such as "how to" and other long-tail keywords
Informational searches for brands or products
Product review or comparison searches
Purchase decision searches
Search Volume
How many people are actually searching for a given topic?
The larger the audience you can reach, the better.
If no one is searching for a specific word, then there is no audience to find your content through the search engines.
Most free and paid keyword research tools provide estimated monthly search volume data for a keyword.
Competition and difficulty
Understanding the competitiveness (and likelihood to rank) for specific terms is an important factor to consider in this step.
It's tempting to target relevant high-volume keywords however Google tend to favour ranking older, more trusted web pages in the top results.
You can either use the keyword difficulty score from a keyword research tool or check the top-ranking pages in Google to see who is ranking and to see if you can create a better answer.
Clicks
However, the most important metric in keyword research is to identify the clicks that the top pages get from the search results.
Studies have shown that, on average, 50% of searches are not clicked.
Use a keyword research tool that provides monthly search traffic or clicks is essential to keyword research.
The biggest advantage of my click forecasting process for keyword research is that it helps to identify and choose relevant words with low competition and higher clicks.
Back To Top
Step 2: Map keywords to content
After you have chosen relevant keywords, you should map those keywords to the content you are going to create.
I like to map keywords to content using a spreadsheet like this.
Choose the keyword you wish to target
Write out a page title
Use a url containing the keyword
Website structure
It's important to make your website easy to navigate for both visitors and search engines.
I use tools such as Octopus or a spreadsheet to map out pages and the website structure.
Back To Top
Step 3: User Intent
User intent is giving users the content on your page to satisfy their search query; ie: the solution or answer to their question.
For example,
If I had a business selling "men's black jeans", I would check the search results for the phrase and discover Google show shopping results.
So the intent behind this search query is to shop.
If you searched for "black jeans and white trainers", you will see a lot of "how-to" articles.
The user intent is "how to" and therefore the page you should create to answer the query is a how-to guide.
Back To Top
Step 4: Content Creation
The content you create should match what the user wants from a search query.
If the user is looking for products, ideally you would create content that display product images, descriptions, sizes, delivery and prices.
On the other hand, if the user is looking for instructions on how to build a skateboard ramp, the content will be vastly different.
Content and Information Gain
Google have a patent that says, "information gain scores indicate how much more information one source may bring to a person who has seen other sources on the same topic.
Pages with higher information gain scores may be ranked higher than pages with lower information gain scores."
If you want to outrank the top pages, a competitive advantage is to provide better answers on your page.
Back To Top
Step 5: On-Page SEO
Once you have created your page content, the next step is to put your targeted keyword into the content of your website.
Here are a few essential, basic on-page elements that will help your page be discovered by the search engines.
Title Tags
The title tag is displayed on the search engine results page and in social media channels and can encourage users to click and visit the given web page.
In addition to being displayed on the search engine results page, the title tag can be found in social media channels and boost the click-through rate to the given web page.
Meta Descriptions
The summary of your page that users see underneath the title is called a meta description.
Google now rewrites between 63% to 71% of meta description tags; so don't put too much effort into writing meta descriptions.
Click here to view some great meta description examples.
Alt Text
Alt text (also called alt tag) is a sentence of text that describes an image and how it appears in Google image search results.
By describing your images with alt text your pages and products can be found and clicked on.
URL structure
The URL is a strong on-page ranking factor and, ideally, the URL should match the primary keyword that the page is targeting.
Information Architecture & Internal Linking
The way in which you organise your website and the links between your pages is called information architecture and can affect how your site ranks.
Search engines look at anchor text, the actual text you use to link to internal pages, as well as descriptive text to link to a page on your site, to understand what that page is about.
A link from an external website such as the BBC is a strong indication that your site could be important.
It's an indication to search engines that a specific page is important to your site if you are linking to it aggressively from different areas.
The pages that have the most external links on your site have the most power to help the other pages on your site rank in search results.
Back To Top
Step 6: How to get your website found on Google?
Here's a basic overview of how to get your web pages found in the search engines.
Domain name
Purchase a domain name from someone like 123 Reg or Godaddy to reflect your brand name.
Use a website platform
Most people don't know how to code a website.
They use a website platform or CMS.
These platforms allow people with little or no coding skills to create a website, manage content with ease and take care of boring technicalities.
If you are selling products, use Shopify; if you provide services use WordPress.
Use a good web host
Web hosts store your web pages and serve them to the search engines.
Shopify takes care of your web hosting and companies such as Flywheel host WordPress websites.
Both Shopify and Flywheel web hosting provides a free SSL certificate; which is a signal of a trusted website.
It's a good idea to choose a web host provider with the same server location as most of your traffic.
User web experience
Pages that give visitors a positive experience are the ones that will be ranked better by Google.
You should build a website to benefit your users, and any optimisation should be geared towards making the user experience better according to Google's UX playbooks.
Use HTTPS
If you want to keep your site safe, always use SSL.
Web design
People don't like websites that look like they were built in the '90s.
You don't need to redesign your website every six months, but it should reflect your brand, be visually appealing and SEO friendly.
Mobile-friendly
It's crucial that your website is as easy to use on a mobile as it is on a desktop.
A poor searcher experience can be demoted in rankings or displayed with a warning in mobile search results.
Ensure key elements are above the fold of the browser such as the page title, first sentence and a benefit statement.
Font size, sub headings and paragraphs
You want the body font size on your phone, when held at a distance, to be as readable as text in a book.
For body text on my website and email marketing campaigns, I use 20 pixels.
Buffer suggests 8 to 11 words per line since all browsers have different sizes.
Key information for users should be highlighted with the use of subheaders.
Make sure pages load fast
A confirmed ranking factor is page speed.
You don't need your site to load lightning fast.
Fast is good but Google said page speed only affects websites that "deliver the slowest experience to users."
Back To Top
Step 7: Link Building and Off-Page SEO
If you don't have links you won't show up very well in the search engine results.
A backlink is a mention of your web page in the body of another web page that includes a link back to your web page.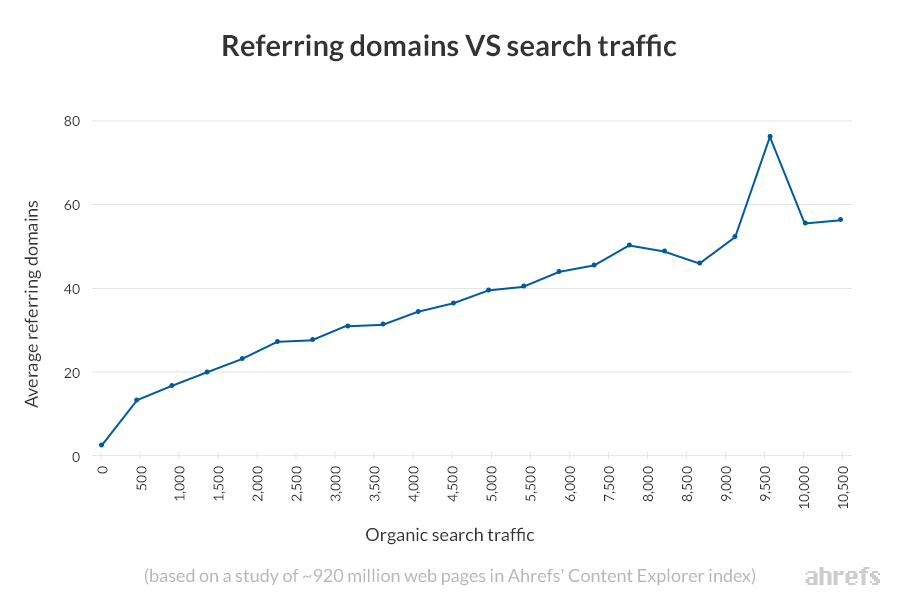 Here's a quick overview of link building strategies.
Identify & Understand Link Intent
Understand who is likely to link to your content is called link intent.
Find the keywords with statistics, facts, or data that has link intent built-in, then other people can reference this information whereby linking to you.
The best backlink analysis tool for this job is Ahrefs.
Identify industry experts and other link creators to understand what they read and link to.
Find out their problems are
Find out what types of content they link to
Think about what they would find valuable and link to
Example link building campaigns
There is a higher chance of success if you choose a link building strategy from below.
Statistics
Checklists
Data and Statistical
Buying Guides
Broken Links
Citational links
Directory links
Guest posting
Expert insight
Opinion piece of content
You can review the costs, time and difficulty of each link building campaign here.
Back To Top
Step 8: Technical SEO
Here are some of the technical issues you should be aware of.
Page Speed
Fast-loading sites are beneficial for search engines, as well as for your users and your site's conversion rates.
Your developers can use tools such as GTmetrix and Page Speed Insights to get specific suggestions on what to change on your website to fix page speed issues.
Mobile Friendliness
If your site is driving more mobile traffic, how mobile-friendly you are will affect your ranking on mobile devices.
Redirects
If you need to move content (after a redesign or change of domain name), use permanent 301 redirects for content that is moving permanently.
Changing your URL structure could make it difficult for visitors to navigate your site, as well as hurt your referral traffic streams.
Duplicate Content
Adding the same or nearly identical content on numerous pages, you are reducing link equity between two pages instead of focusing it on one page.
You don't have a chance of ranking for competitive phrases with websites that consolidate their link equity into one document.
Lots of duplicated content makes your website look filled with low-quality content in the eyes of search engines.
Google Search Console provides recommendations on avoiding duplicate content.
Help Google find your content with an XML Sitemap
To get your site on the internet, you need to be sure that it can be found on the internet.
A good way to do that is to submit a sitemap.
A sitemap is a file that tells search engines about changes to your site.
Robots.txt, Meta NoIndex, & Meta NoFollow
You can tell the search engines which pages or content to display by using a robots.txt file.
You can use the meta noindex meta and nofollow tags for similar purposes.
Back To Top
Step 9: How to Track & Measure SEO Results
I recommend two free tools to track and measure SEO results; Google Search Console and Ahrefs.
Keyword Rankings and Impressions
Ensure that impressions are growing over time for your web pages and website.
View individual page rankings and keyword rankings to get an early indication of your content performance.
Organic Traffic
You can measure your organic traffic with analytics tools such as Google Search Console or Analytics.
If you look at the organic traffic to your site, you get a gauge for the volume of visitors coming to your site, and where they're going.
Organic traffic reports can be emailed to you periodically with the help of these SEO automations.
Organic Leads & Sales
The way to measure the effectiveness of your search engine is leads, sales, revenue and profit.
Set up goals or e-commerce tracking with a tool like Google Analytics.
Look at organic traffic and goals by landing page, which means that you are specifically looking at who converts among the people who are landing on your site from an organic search.
For most businesses, this is a good initial way to measure the success of their marketing efforts, but it's not perfect.
Summary
I trust that this beginners guide to SEO lays the groundwork for your success.
Back To Top