Here's some of the latest SEO trends along with what to do along and a few future seo predictions..
Key highlights
AI generated content is here
37% of businesses use AI
Ahrefs to launch search engine
64.82% of clicks are zero click searches
>50% of your content is out of date
80% of your pages don't get clicks
90.63% of pages earn no traffic from Google
66.31% of pages have zero referring domains
<4% of web pages pass Core Web Vitals
Product pages will disappear from page 1 results
If you're local, try to get Google Guaranteed or Screened
AI and Content Creation is here
At the moment around 37% of businesses employ some kind of AI.
The SEO industry is no different; in the past few years a vast array of AI tools for content creation have emerged.
Tools such as Frase.io, SEO Surfer, Jarvis and CopySmith to name a few.
Jarvis is taking the ai-generated content approach to help you write ads, emails, landing pages and product descriptions.
Heck, CopySmith even integrates with Shopify to help you write better product descriptions.
Frase and SEO Surfer on the other hand have taken the organic search angle to writing content.
With SEO Surfer
Install their Chrome Extension
Search Google
Get search volume estimate
Click Generate Article Outline and it writes a page title and outline of the content – all in the browser.
With Frase
Enter a keyword or topic you want to write about
Tell it what you want to write about and off it goes writing
The robots aren't going to take over writing copy, you still need subject knowledge.
You are going to write less but edit more; fact checking, proof reading, edit structure and optimising for users and search engines.
Learn more about SEO and AI
Information Gains Score
One of the possible dangers of using AI for content creation is that you churn out the same content as everyone else.
Users want the best answer for their search question.
Google have a patent which, if I summarise says, "information gain scores indicate how much more information one source may bring to a person who has seen other sources on the same topic.
Pages with higher information gain scores may be ranked higher than pages with lower information gain scores."
So, I think what this means is, you search for something and if you don't get the answer you are looking for then Google is going to score pages higher who bring something else or extra.
Passage Indexing and Ranking
With "passages", Google can find "needle in a haystack" information on a web page and display it as a relevant answer for a query.
This is going to help those who don't optimise their pages very well or have a great answer buried in the middle of a 5,000 word article.
We already know most users don't scroll past the second screenful and may miss the answer they need in the middle of top ranked long-form content.
Google say this is different from featured snippets and only affects a small percentage of search queries.
Core Web Vitals
Core Web Vitals is a set of metrics that provide information about the user experience offered by individual pages on the internet.
According to Search Engine Land , less than 4% of websites passed all Core Web Vitals tests.
No one wants to wait seconds for a web page to appear on their phone when they are out and about.
Improve the user experience and above the fold content.
Over 90.63% of pages gets no traffic from Google
There's a few reasons over 90% of pages get no traffic from Google :
Most digital marketers and business owners don't know their audience search habits
Under investment in keyword research and content creation
A lack of links
User experience is poor (see above Core Web Vitals)
When you know with certainty what your audience searches and clicks then you can produce content with confidence to target such a topic.
64.82% of clicks are zero click searches
Research by Rand Fishkin revealed that around 2/3rds of searches result in zero click searches.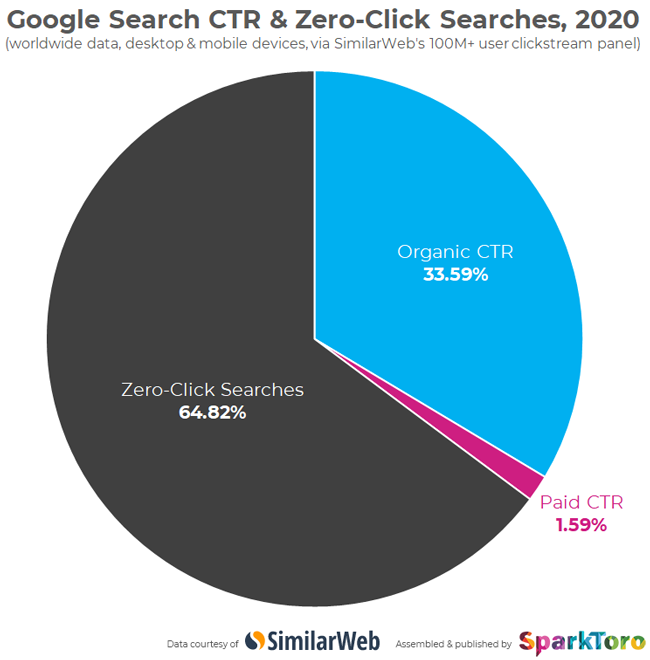 Put simply, Google solved nearly 2 in 3 searches without the need for a click.
More consumers can get the answers they need without having to click a result or even finish typing out a query if there are rich results on the search results pages.
You need to identify which of those searches are most relevant and easiest to acquire clicks from in order to grow your organic traffic.
That's why the service I offer is called seo click forecasting.
Over 66% of pages have zero referring domains
Most website owners are aware of the importance of links to boost domain authority and traffic.
But most don't have the tools or knowledge to earn links.
Outreach link building has turned into email spam in most cases and guest posting offers have been done to death.
And buying links is strictly against Google's policies.
Now you have to make a serious investment in order to earn links.
Try these strategies to naturally earn links.
80% of your pages don't get clicks
Which leads us onto the Pareto's Law.
80% of results are derived from 20% of work (or web pages).
Even a top enterprise SEO Lily Ray is aware of this phenomena.
To get better results, focus on the 20% of valuable content that's already working.
Learn about seo quick wins
Content Decay – >50% of your content is out of date
It's not sexy but improving decaying pages increases the chance of higher rankings and traffic.
Log into your content management system and look at the date you published your content.
I have pages that haven't been touched in 2 years; some clients, even longer.
This great little report tells you which pages are decaying.
Conversion and Owned Marketing
An advert on the Joe Rogan podcast by Klayvio mentioned "owned marketing".
I got mocked on Twitter by another SEO for suggesting website conversion is part of an SEO's responsibility.
Owned marketing is converting traffic into subscribers and buyers, subscribers into buyers and buyers into repeat buyers.
Learn how to convert informational content
What is Google Discover ?
Google Discover is a new kind of search that doesn't even require a user query.
Discover claims 80 million active users and is an artificial intelligence-driven content recommendation tool.
The recommendation tool learns user habits over time.
The most likely content to interest the user is identified by Discover with this information.
I've only seen Discover statistics appear in Google Search Console for a couple of websites; one on gardening and one on home improvement.
I haven't a clue how to use it or how it's useful.
All I see is a curated list of news stories.
I did search for concerts near me; but I'd find the results I want on the normal search results.
Product pages will disappear from page 1
You may not like this but I think most product pages are going to disappear from the search results.
The search results from Google are a product and their aim is to extract the most amount of dollars from this asset.
But this could be good for users.
Let's say you are shopping for "golf shoes" what would you rather see ?
A single shoe page from Nike or an article about "top golf shoes for wet weather, people with flat or wide feet" ?
It makes sense if Google is trying to optimise for user intent.
And this could mean e-commerce will begin to focus on creating useful content further up the funnel to actually help users with problems and comparing and reviewing products.
Learn about different types of content you can create
Voice search will not make any difference to your organic traffic
Search Engine Land found that 20% of mobile searches are voice search queries.
My clients or I don't sell recipes, directions, music, lyrics, the time, train tickets, bus tickets, flights so I think we shall be unaffected by voice search.
And most of the people reading this article will be unaffected in the next 5 years.
If you really wanted to you could explore keyword research for voice search.
I did some keyword research for "hey siri" and "hey google" and a question but search volume is low.
Ahrefs to launch own search engine
The Ahrefs search engine is already under development and they will offer an attractive revenue share with content creators; 90/10 in favour of creators.
Look.
Their current content explorer tool already indexes billions of web pages, they have a licence to launch a search engine and they have a huge customer base and following.
A new search engine won't make a dent on Google but Ahrefs' large user base of search engine experts may help change the behaviour of many.
To quote Dmitry Gerasimenko
"I believe that the moment creators realize they can get payments from an alternative search engine because their content is good and helps other people, it will start a perfect storm for Google's search business".
Google Guaranteed
Google Guaranteed is part of Local Service Ads to give consumers confidence in local businesses.
It allows companies to potentially attract more organic traffic without investing in paid search engine marketing.
There is a green checkmark underneath the names of companies that qualify.
If your company passes the screening, you will be given a Badge to show customers that they have been pre-qualified by Google.
Only businesses that meet certain criteria are eligible.
The program costs a base fee of $50 per month, for an annual cost of $600. However, there are also costs for every lead.
Google Screened
Professional service firms get help to build a reputation online with Google Screened.
Businesses with the badge are subject to a lot of background checks.
On Local Service listings, you will see the Google Screened icon next to these businesses.
You can see the Google Screened icon next to the businesses on Local Service listing.
Summary
The search results (SERP) are a Google product and it's their goal to maximise revenue from those who use the product.
That means advertising.
And the way to maximise ad spend is to make it harder for users to click to the organic results provide by those business websites who don't spend money on ads.
There's still billions of opportunities in earning organic search traffic; for those with the funds willing to invest and squeeze more juice out of the orange.