Here are 15 keyword research ideas and advanced strategies to help you understand what people are searching and clicking on in Google.
So hopefully you can create relevant, useful content to put your web pages in front of them.
Identify click volume, not search volume
Search volume is misleading, instead you need to identify click volume.
You've heard the phrase "revenue for vanity, profit for sanity" ?
Well, search volume is for vanity and click volume for is sanity.
With paid research tools you can get an estimate of how many clicks each page in the top 10 results receive.
Google only show 8 organic results for 'wordpress developer' in the UK.
And a page one result gets, on average, 99 visits a month from Google.
Now you can decide if you want to target a hard topic with the potential of 99 visits a month.
Or target an easier topic with the potential of 330 visits per month.
Use paid keyword research tools not free tools
To gain a better understanding of the differences between a premium and free keyword research tool read my article here.
In this screenshot I've compared the number of keyword ideas generated with Ubersuggest and Ahrefs
Ubersuggest generated 146 keyword ideas
Ahrefs generated 17673 ideas
Ahrefs is a far superior keyword tool.
However, even a great tool like Ahrefs won't uncover every keyword that people search for.
I would avoid the Google Keyword Planner tool; it's built for advertising research not for an organic keyword strategy.
Pick a topic not a keyword
Top pages don't rank for one keyword they rank for hundreds of keywords.
If I examine my top ranking page it ranks in the top 100 in Google for 425 different keywords in the UK.
If two different people search for "business ideas uk" and "new business ideas uk", Google will likely rank the same page for both queries.
The search intent for each query is basically the same.
How many keywords do top pages rank for ?
Top ranked pages rank for many keywords, whereas as lower ranking keywords rank for less keywords.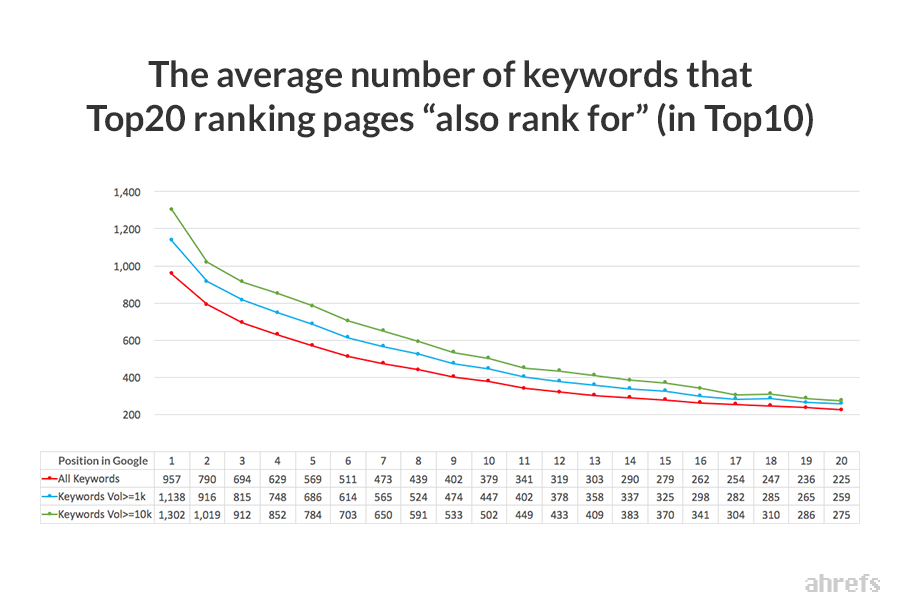 That's why when I am doing keyword research my chosen topic tends to have more than 100 same as keywords.
What's the point of investing hours writing something that can only rank for a couple of search queries ?
You want to rank a page for hundreds, no thousands of keywords as you stand a better chance of getting more traffic to that page from Google.
Hard topics
Many keywords, especially those with commercial intent, are too difficult for the majority of websites to rank for.
We need to choose an easier to rank topic.
A keyword with a difficulty of 24 is too hard for most websites to rank for.
Look for the easiest keywords to rank for.
Go into Ahrefs
Put in a one or two word search query in the search box.
Hit phrase match
Select between 0 and 1 in the KD tab and apply.
The first result is "wordpress duplicate page".
It has 600 searches a month, a keyword difficulty is 1 and there's an average of 330 clicks per month to the top page results.
So that would be easy to rank for; provided you can answer that question better than the current top pages.
Looking at the top 10 results, you can see the top pages all get traffic.
On average the top pages get 330 visits a month.
My only concern would be that Google are only displaying highly rated and trusted domains;
DR 70 to 97 and the top pages only rank for 20 to 30 keywords; a small topic to pursue.
Can a website with low domain authority beat a website with high domain authority?
Yes !
To quote Ahrefs
But only if:
…you build more quality backlinks to your page than the page on a high-DR website has;
…you build more internal links to your page than the page on a high-DR website has;
…your content is more relevant and meets the searcher's intent a lot better than the page on a high-DR website.
Example of weaker website outranking high authority websites
If you looked at the green highlight column, my website has a domain rating of 34 and the other websites have authority between 57 and 96.
I outrank them all because of :
links to my page
I built more internal links from my authority pages
My page content is better, more relevant and more up to date than the others.
Targeting what people are looking for
Clients want a website built to promote and sell their products and services.
Many assume launching a website listing their services will attract customers.
What most fail to realise is that there are competing websites already well entrenched in the top pages.
Ousting the top pages is hard and takes time and money.
Especially for a new business with little authority.
The mobile phone giant, EE, only have 2 products pages in their 13 best ranked pages in Google.
Their other top pages are resource pages, not commercial intent sales or product pages.
My top pages aren't about websites, keyword research or SEO.
Those topics are too darn hard to rank for.
My top pages are resourceful pages.
Ideas on starting a business
How to plan a website
How to get backlinks to a website
Local advertising
These are all topics broadly based around my core services.
You can find a specific topic, broadly based around your services or your clients, that are much easier to rank and earn traffic from.
Let's use keyword research to find out prospects are looking for.
Go to site explorer in Ahrefs.
Enter a one word query eg: website and hit return
Select All
Enter 'website' or your keyword in the include box
Notice keywords that have the highest monthly search volumes typically have the highest keyword difficulty.
Google is an answer engine that people search.
Google use our websites to feed prospects with answers.
And we need to know the questions our customers have in advance of their question or query.
I can look at the questions customers have related to our topic.
Select questions from the left menu.
So I can filter by difficulty.
In the KD drop down, enter 0 to 20.
I will filter out a few irrelevant words; like reference, cite, block.
Now I have 267 ideas.
As I look through this ideas I ask myself.
Could I write about this ?
Would this be relevant for my website and business ?
Then I click SERPS to check the traffic the top pages earn.
How much does it cost to build a website UK.
That's very relevant to my business.
Granted there are only 350 searches but the keyword difficulty is low;2.
And remember, the top pages could rank for hundreds or thousands of similar keywords.
382 visits per month is the average traffic the top pages earn.
3 out of the top 10 websites have 1 or less referring domains to their page.
So all this suggests a great opportunity to rank and earn traffic from Google for any web professional.
Pick a big topic
In 30 seconds I can diagnose the problem with most website's traffic.
I look at their total organic traffic and then the number of keywords their top pages rank for.
You can do this analysis in Search Console, Google Analytics, SEMRush and Ahrefs.
In Ahrefs
Enter URL into site explorer
Select top pages.
How can I find a big, easy to rank topic that's related to my business ?
Look at the keywords you rank for; select organic keywords
Pick one word eg: resignation
Enter that into keyword explorer
Then select ALL
Select word count and filter from 2
Select KD and filter from 0 to 10
Now in the exclude box type in your keyword eg: resignation
I found a great topic; how to write a notice letter UK.
1400 searches
Keyword difficulty 5
Look at SERPs (search engine results).
I can see the top pages rank for 108 to 1044 keywords.
The top pages earn, on average, 22,561 visits per month.
Small topics
I have a page about local advertising.
The search query "local advertising" has 500 searches a month and a keyword difficulty of 4.
Very small monthly search volume.
According to Ahrefs my page gets 150 visits from Google a month.
Nice traffic from a small topic of just 55 keywords.
Keyword Research before you build a website
As web professionals, designers or marketers we take on clients without knowing their market as much as they do.
Fear not.
Here's a really easy keyword research tactic to find what targeted audiences are looking for.
Go to Ahrefs and keyword search
Enter your seed keyword eg: insulation, mortgages
Select phrase match
Enter "for" in the include box
Now set up a keyword difficulty filter.
Look what I found for the insulation client.
Insulation for sheds
Who would want insulation for a shed ?
Well, my son wanted his shed insulated so him and his friends would turn up the amps on their guitar and jam really loud.
300 searches a month
Keyword difficulty is zero
The top pages earn, on average, 831 visits per month.
Researching suppliers products or services
I like to find out what my client's suppliers are ranking for that my client's doesn't rank for.
In this example, I've taken one supplier and done a content gap analysis with a client.
Go to content gap
Enter up to 10 suppliers in the top boxes
Enter your url in the "but the following target doesn't rank for
Exclude the suppliers brand names
Add any additional filtering
Now I can look through this list of ideas and check the SERPS of the ideas that are suitable.
Researching industry body websites
An under looked keyword research strategy is to identify the keywords and pages that industry bodies rank for.
You must know of an industry association in your business or your clients.
For me there's the Chartered institute of marketing, the Content Marketing Institute or the Direct Marketing Institute.
Put their url into ahrefs.
Enter their URL into Ahrefs
Look at their top keywords in your country.
Select organic keywords
Select your country
Filter by difficulty.
Filter by number of words; try 3.
Filter out their brand name in the exclude box
I found a nice easy to rank idea; digital marketing plan with 400 monthly searches and a difficulty of 5.
Comparative and alternative searches
One of Apple's most famous advertising campaigns, I'm a PC, I'm a Mac was a comparative advertising campaign.
It lead to the biggest growth in sales of any campaign they've run.
Part of the decision making process people go through is called the 'evaluation of alternatives".
30 years on from my marketing degree and I've still not forgotten my theory.
People are comparing your product with similar products during their buying process.
Let's do some comparative keyword research.
Start with a seed keyword.
Enter a seed keyword such as "WordPress" into Ahrefs keyword explorer and hit return.
Select All Keyword Ideas.
In the include box put in a few comparative keywords like alternative, vs, versus, compare, better, or.
In the KD (keyword difficulty) filter box enter 0-20 and apply
I now have 42 keyword ideas.
Let me analyse 'squarespace vs wordpress'
600 searches a month in the UK; which is a small market.
The keyword difficulty is 12.
Look at the traffic to the top results.
The average top result earns 151 organic visits per month.
3 of the top pages have 8 or less links to their page.
Now think about who would be searching "squarespace vs wordpress' and why.
The user is considering a website.
They are undecided which is the best platform to host their website.
They want to make sure they are making the best decision and web investment.
If you're the expert, you should be able to provide your experience and compare the features, benefits, pros and cons of each alternative.
And if your page is designed for conversion you should be able to capture qualified leads by highlighting you are their best web implementation option.
Keyword research to find backlinks
Of course you want your product and services pages to rank well in Google.
But most clients I deal with don't have powerful websites.
They tend to have a low domain rating with not a lot of traffic from Google.
A low domain rating is a reflection of the number and quality of links to their website.
So how do make your website more powerful and authoritative ?
You earn links.
How do you do that ?
Pick a website in your industry
Enter URL into Ahrefs
Select best my links
From the HTTP code dropdown select 404 not found
Here's a list of pages that don't exist on this website anymore but have backlinks.
So what you do is check the pages in Archive.org
Decide if you want to recreate this page on your website
Produce an updated version of this page
Find those websites who currently link to this broken page
Reach out and offer your page as a replacement
That's a very simplified version of the strategy as it's much more labour intensive.
Full broken link building guide here.
Low Competition Topic Ideas
Finding low competition keywords is one of the best keyword research strategies around.
I was very reluctant to share this strategy as it's one of my secret weapons.
There's various ways to research your competitors and potentially steal their traffic.
Picking a low competition topic that's easy to rank with high traffic
Here's how to find low competition keywords or pick a topic for your next blog post or for your client's website.
Enter an industry website into Ahrefs site explorer eg: entrepreneur.com has 4.3m visits a month.
Select backlinks
Filter for > 1000 traffic
Filter by language
Filter by do follow links
Sort by ascending referring domains
(you have to select referring domains twice)
Now look at the title of each referring page.
Pick the pages you could write about.
Enter the page metrics into a spreadsheet ie : the url, title, traffic, country traffic, number of ranking keywords and referring domains.
Here's my spreadsheet of low competition keywords and topical ideas.
Once you reach pages with more than 10 referring domains, select competing domains.
Pick another industry website with more than 100,000 visits
To find more low competition keywords, follow the above process.
Build up a spreadsheet with 20 to 30 topics.
Now sort and filter by lowest referring domains.
You can choose which topics are the easiest to rank for and how the best traffic and ranking keywords.
Pages that get traffic on page 2
Another keyword research strategy is to examine websites and find out the traffic they get from page 2 results.
Enter a url into site explorer.
Select top pages
Filter by position 11.
Now look at the top keyword; that's your list of content ideas.
Write a better page or answer than the page on the url you've just researched.
Here's a study I did of 100 random website where I found out the traffic they get from page 2.
Look for out of date search results.
When you are researching a topic or an industry you should check the top 10 search results.
The date sometimes appears in the search results.
If you see something like 01 April 2011 and it's 2019 then it's entirely possible for you to create a more up to date and relevant page resource to answer the search queries.
I took this approach with my local advertising guide in August 2018.
By April 2019 I was ranking in position 1.
Use Ahrefs Content Explorer
Enter a phrase and select "In Title"
Filter the publish date between 2010 and 2017
Sort by Organic Traffic
The page titles will give you an idea about the content of their page.
But may also want to filter by Domain Rating and Referring Domains to find websites will similar ratings to yours.
I just found a great page that gets 7100 visits a month with only 4 referring domains and a domain rating of 10.
Shame it only gets 406 UK visits; but I'd take that any day.
So there you have it
You won't ever be short of ideas of what to write or how to find organic traffic opportunities.
If you need personalised keyword research done for you or your clients, get in touch.